Very Wicked Things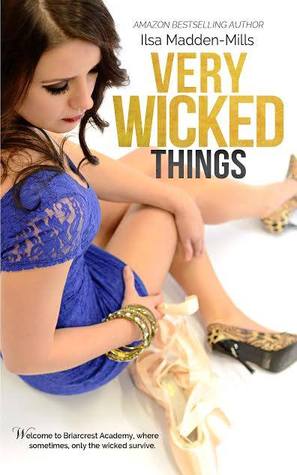 I really am enjoying this series. Cuba and Dovey were sweet to read about!
Review on Blog later today!!
Born on the poor side of town...

Ballerina Dovey Beckham is a scholarship student at Briarcrest Academy, determined to prove she's more than just a girl with the wrong pedigree. She does whatever it takes to succeed in her endgame, even if it means surrendering her body…but never her heart.

Until the day she meets him, and he rips apart all her well-laid plans. Suddenly, the girl everyone thought unbreakable might just shatter.

Born into wealth and privilege...

Cuba "Hollywood" Hudson is rich, spoiled, and a star football player. With his fast cars and superficial girlfriends, he lives the high-life, hiding his secrets from the world.

Until the day he meets her, and she offers him something he's never tasted... love.

But once in a lifetime kind of love doesn't come easy. When trust crumbles and doubts creep in, both will have to decide to either love or let go... forever.

Welcome to Briarcrest Academy, where sometimes, only the wicked survive.
To participate in Teaser Tuesdays just do the following…

• Grab your current read
• Open to a random page
• Share two (2) "teaser" sentences from somewhere on that page
• BE CAREFUL NOT TO INCLUDE SPOILERS! (Make sure that what you share doesn't give too much away! You don't want to ruin the book for others!)
• Share the title & author too, so that other TT participants can add the book to their TBR Lists if they like your teasers!
Do you have a tease this week? Please leave a comment below with your TT link so I can check out yours too!!
Thanks for stopping by and have a great Tuesday!!