I hadn't read
Tara Sivec before, and when I came across
Kiss the Girl, I thought it sounded like a lot of fun. It was the perfect romantic comedy I needed and I'd love to try more of her work in the future!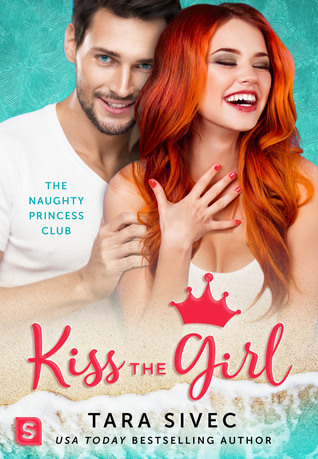 Series: Naughty Princess Club #3
Genre: Contemporary Romance
Expected Publication: September 4th 2018
A struggling antiques collector finds herself falling in love with a millionaire playboy; but can she ever be a part of his world?

Meet the Naughty Princess Club, a series from USA Today bestselling author Tara Sivec that brings readers to Fairytale Lane and the hilarity—and romance—that three women fall into once they decide to strut their stuff and bring on their own happily ever after.

While her friends have broken free of their insecurities, Ariel Waters is struggling to come out of her shell. Her ex-husband took away her voice and her self-confidence, and Ariel is drowning under a sea of debt to afford the alimony she has to pay him. She refuses to ever fall for a man's charms again, and is determined to make her own way.

When her house and her beloved antiques are taken by the bank after too many missed payments, Ariel finds herself adrift until the infuriatingly charming Eric Sailor comes to her rescue. Although she can't stand the millionaire playboy, Eric's kindness and unconditional support reveal hidden depths and a love that Ariel never imagined she could find.

But there are outside influences who will stop at nothing to keep them apart; can Ariel and Eric weather the storm and find a way to be together?
I haven't read Tara Sivec before, but after reading Kiss the Girl I can see that she likes to write characters that are loud, quirky and definitely memorable. Despite all the drama, it was sweet to watch Eric support Ariel through everything and he showed her what a great woman she was beneath her insecurities.
Ariel had a bit of a potty mouth and was very dramatic, but I enjoyed watching her get back up after losing so much. She was kind of lost and her friends supported her as best as they could. However, it was Eric and how he subtly pushed Ariel in the right direction, that made her the strong and confident woman she turned out to be.
Eric was a fabulous guy! He didn't try to take control, he was just there helping Ariel, using his cheeky banter to fire Ariel up, or doing things with Ariel that he knew that she loved doing. I liked that he was so easy going and how these two fell so effortlessly into a relationship, despite Ariel trying to keep Eric at arms length.
Even though this was the third book in the series, each book features a different couple. I think I would have a better understanding of the world and the situation if I read all the books, but the author gave me enough backstory that I could easily follow along. The girls were so close, that they would follow one another into battle if needed. They started an interesting business together, and had tremendous support from their men. It was an amusing romantic comedy and I will definitely read more of Sivec's work in the future!
Complimentary copy provided by the Publisher, via NetGalley in exchange for an honest review.
*** Swoon Thursday was first bought to us by YA Bound. Since they are no longer with us, and with permission from Trisha Wolfe, I have decided that those of us that love to swoon need a central meet up point. So here it is ladies! I have a link up for everyone at the bottom of the post you can add your swoons to, and I'll set it up every week! So tell all other swooners out there to come on over, link up so we can visit each other! *** Two swoons today, the first one a steamy kiss... the second made me laugh!

"I'm sorry. I can't put this off any longer. Please don't kick me in the balls."
My mouth opens to ask Eric what the hell he's talking about when all of a sudden, he dips his head and crashes his lips to mine. I gasp in shock and he takes advantage, deepening the kiss to slide his tongue past my lips and swirl it against my own.
The world around me completely fades away. I forget that I'm standing on the dock. I forget that my ex-husband showed up and made me feel like I'm not good enough for anyone. I forget that he's standing a few feet away watching us. I forget my own name and I forget what day it is as I wrap my arms around Eric's shoulders and hold him tightly to me.
With one arm still securely around my waist, his hand comes up between us and he cups my cheek, holding my head in place while he devours me with his mouth. His kiss matches his personality. It's bold and wild and the best thing I've ever felt. I moan softly into his mouth and grab a fistful of the hair on the back of his head while he plunges his tongue deeper. He kisses me with everything he has, and I never want the feeling to end. This feeling of being wanted and appreciated and beautiful.

Kindle Arc Loc 1180

Jesus, this guy is good. I'm pretty sure my underwear just ripped itself off of my body.

Kindle Arc Loc 2001


Originally inspired by

YA Bound
Tara Sivec is a USA Today best-selling author, wife,
mother, chauffeur, maid, short-order cook, baby-sitter, and sarcasm expert. She lives in Ohio with her husband and two children and looks forward to the day when they all three of them become adults and move out.

After working in the brokerage business for fourteen years, Tara decided to pick up a pen and write instead of shoving it in her eye out of boredom. Her novel Seduction and Snacks won first place in the Indie Romance Convention Reader's Choice Awards 2013 for Best Indie First Book and she was voted as Best Author in the Indie Romance Convention Reader's Choice Awards for 2014.

In her spare time, Tara loves to dream about all of the baking she'll do and naps she'll take when she ever gets spare time.
Would you like me to add the link up code to this post, so you can add it to your own posts?
read more "Kiss the Girl by Tara Sivec ~ Review & Swoon Thursday (@TaraSivec)"