Helena Hunting's latest release hit shelves this week and what an amusing hoot it turned out to be! I love Hunting's reads, the way she blends humour and smexiness into one entertaining read! I hope you get out there and try it!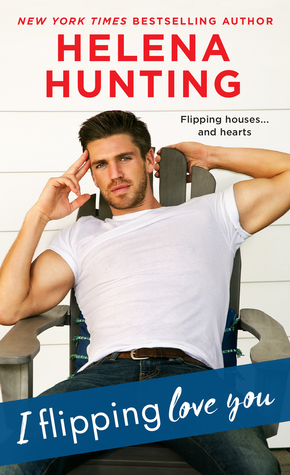 Title: I Flipping Love You
Genre: Contemporary Romance
A new kind of love story about flipping houses, taking risks, and landing that special someone who's move-in ready…

SHE'S GOT CURB APPEAL
Rian Sutter grew up with the finer things in life. Spending summers in The Hamptons was a normal occurrence for her until her parents lost everything years ago. Now Rian and her sister are getting their life, and finances, back on track through real estate. Not only do they buy and sell houses to the rich and famous, but they finally have the capital to flip their very own beachfront property. But when she inadvertently catches the attention of a sexy stranger who snaps up every house from under her, all bets are off…

HE'S A FIXER UPPER
Pierce Whitfield doesn't normally demo kitchens, install dry wall, or tear apart a beautiful woman's dreams. He's just a down-on-his-luck lawyer who needed a break from the city and agreed to help his brother work on a few homes in the Hamptons. When he first meets Rian, the attraction is undeniable. But when they start competing for the same pieces of prime real estate, the early sparks turn into full-blown fireworks. Can these passionate rivals turn up the heat on their budding romance — without burning down the house?
It's been a while since I've read anything by
Helena Hunting,
and when I came across
I Flipping Love You
, I was excited! I just needed something light and amusing, and
Hunting
delivered with this spicy read!
Pierce and Rian had chemistry right from their initial meeting, despite the issues and the banter that occurred between them. I loved the way that they both stuck to their guns and wouldn't back down. There were a few chance meetings and each time I could see the connection between them getting stronger.
I liked that they had something in common and had plans to flip houses. Rian had a dream to take on an estate that meant a lot to her, and these plans she slowly divulged to Pierce. However, they both had secrets that kept the distance between them... even though they were as hot as hell between the sheets.
I thoroughly enjoyed reading I Flipping Love You! Pierce and Rian were so entertaining to read about. They were both determined and focused on their goals and at times they even worked well together. I liked meeting each of their siblings and seeing the affect that they had on their lives. I was sad to see how both Rian and her sister were treated by her parents, but was grateful that she found someone like Pierce to make her whole once again.
Complimentary copy provided by the Publisher, via NetGalley in exchange for an honest review.
*** Swoon Thursday was first bought to us by YA Bound. Since they are no longer with us, and with permission from Trisha Wolfe, I have decided that those of us that love to swoon need a central meet up point. So here it is ladies! I have a link up for everyone at the bottom of the post you can add your swoons to, and I'll set it up every week! So tell all other swooners out there to come on over, link up so we can visit each other! *** I don't have a steamy kiss to share today, but three little moments that made my heart flutter a little and grin stupidly!

"You think it's sexy that I can do math in my head?"
"Yes. You're gorgeous, outspoken, and intelligent. It's a hard-on–inducing trifecta."

Kindle Arc Loc 1275

"We should get you out of those wet clothes."
"What about your wet clothes?" Her grin turns saucy.
"We should get me out of them too, I suppose."

Kindle Arc Loc 1372

"We're having a sleepover. We're going to do this all night, and I'm going to cuddle you like a motherfucker after I finishing sexing every last orgasm out of you."

Kindle Arc Loc 2081


Originally inspired by

YA Bound
Helena Hunting is the author of The USA Today and
NYT bestselling PUCKED Series. She lives on the outskirts of Toronto with her incredibly tolerant family and two moderately intolerant cats. She writes everything from romantic sports comedy to new adult angst.
Would you like me to add the link up code to this post, so you can add it to your own posts?
read more "I Flipping Love You by Helena Hunting ~ Review & Swoon Thursday (@HelenaHunting)"