When I come across a read by Katy Evans, there's a fair chance I will snatch it up! I really enjoyed reading Million Dollar Devil, and that one little dare turned their worlds around!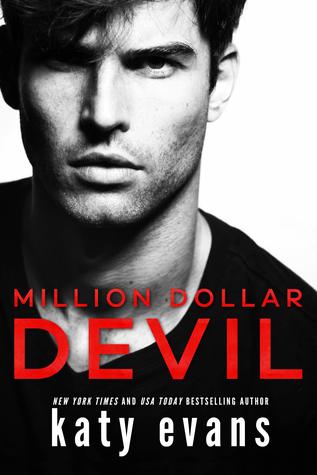 Title: Million Dollar Devil
Published: May 28th 2019
Big-city sophistication meets carnal hunger in this devilish contemporary romance from New York Times and USA Today bestselling author Katy Evans.

Heir apparent to her father's company, Lizzy Banks needs a man. The perfect man. But when the rich "fundbabies" she usually rubs shoulders with prove impossible to hire, she takes a chance on a raw beast of a man salvaged from the wreckage of a bar brawl.

James Rowan earns a modest income as a YouTube daredevil, but he can't refuse Lizzy's million dollar deal. As she polishes his rough edges, creating a sophisticated gentleman fit for the highest circles of society, not only does she bring out the perfect man—it's like she's making the man of her dreams. How can she resist?

Though Lizzy loves seeing James in his clothes—and out of them—he isn't the kind of man you bring home to Daddy. Her father's disapproval and the pressure of the campaign have her eyeing the straight and narrow, but Lizzy's finding it awfully hard to resist the devil on her shoulder…
It's been a long time since I've read anything by Katy Evans, so when I came across this one, I quickly snapped it up! It was amusing as to how Lizzy and James met, and he was willing to go along with everything that she wanted to begin with, but it was sweeter watching them fall for one another.
Lizzy was determined to impress her father by finding the perfect model for the campaign for her Father's suit range. She found James and indeed she did turn him into the perfect model. The more time that they pent together, I could see the sparks flickering between them.
I liked seeing Lizzy grow through the story. She saw the world a lot differently through James and it was sweet to see her drop her guard a little when he was around. He confused her, and she didn't know how to act on the feelings between them. I liked that James was willing to take on this job of Lizzy's, but didn't lose focus on his own goals. He also changed for the better throughout their journey, being a little more polished, but his personality was still there.
There was a moment in the book where the drama threw me a little, and I was like NO, NO, NO! It annoyed me that Lizzy was a little childish and jumped to conclusions, and that James didn't fight harder for what he wanted and to set the record straight. Other than that, I really did enjoy the read and had hopes for Lizzy and James to find their happiness.
I loved this moment between Lizzy and James, it made my heart pitter-patter!

"This is so beautiful," I say, very much aware that he's not making an effort to leave the seat.
"Best view in Atlanta." He's consuming me with his eyes, seemingly unconcerned with the city lights.
"I bet you say that to all the women."
"I've never brought one up here."
For some reason, I believe him, and that makes me feel very vulnerable.
"Well, maybe you should."
"I'll see how this goes and decide from there."
"How what goes?"
His gaze darkens, and he looks at me, his voice quieting. "This." His lips devour mine as his hands cradle my hips. He quickly lifts me to him, forcing me to part my legs and straddle him.
I'm undone. I wrap my hands around his neck. Wanton, aching, wanting him. This daredevil, the guy that does stunts for a living, my first stunt—the first risk I've ever taken in business and maybe even in life as well.


Kindle Arc Loc 2903

My Life in 8 Words: "Hectic, wonderful, complete;
everything I ever wanted."

Katy Evans grew up with books and book-boyfriends until she found a real sexy boyfriend to love. They married and are now hard at work on their own happily ever after. Katy loves her family and friends, and she also loves reading, walking, baking, and being consumed by her characters until she reaches "The End." Which is, hopefully, only the beginning…
read more "Million Dollar Devil by Katy Evans ~ Review & Teaser (@authorkatyevans, @AmazonPub)"