What an addictive journey this has turned out to be! I was hooked and did not want to put it down! I'm kicking myself that I haven't tried Kiera Cass before now, because I'm loving the characters and the world!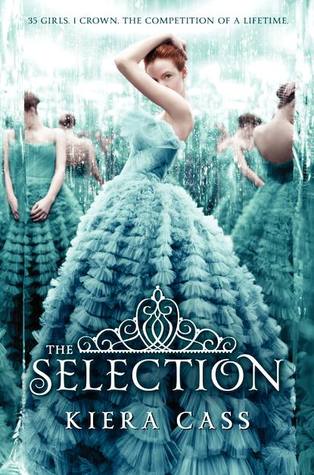 For thirty-five girls, the Selection is the chance of a lifetime. The opportunity to escape the life laid out for them since birth. To be swept up in a world of glittering gowns and priceless jewels. To live in a palace and compete for the heart of gorgeous Prince Maxon.

But for America Singer, being Selected is a nightmare. It means turning her back on her secret love with Aspen, who is a caste below her. Leaving her home to enter a fierce competition for a crown she doesn't want. Living in a palace that is constantly threatened by violent rebel attacks.

Then America meets Prince Maxon. Gradually, she starts to question all the plans she's made for herself—and realizes that the life she's always dreamed of may not compare to a future she never imagined.
I have wanted to read this book for so long! I picked it up not long after it's release in eBook, but I came across it in a box set for only $10 just before Christmas, so you know I grabbed it for myself! So what did I do, devoured the first book as fast as I could! It was addictive, I tell you... I loved how the Selection was conducted, the dangers that were faced and the emotional turmoil that America faced!
I even enjoyed how well this world was set up. I was able to learn some of the history of how the world had changed in the future. It wasn't like what we have now, with some holidays forgotten and simple things that we take for granted were non existent.
The growth in America was done well too. She was kind of pushed into joining the Selection by her mother and also Aspen, America's boyfriend. She did what she had to for her family and it was easier for her to break her heart to do the best for those she loved. I loved that she didn't change who she was, she stayed true to herself and held her head high, despite being in a lower class. I wanted her to win Maxon's heart... despite old flames returning!
Although there seems to be a love triangle in the book, I am hooked! I'm really enjoying Kiera Cass's writing style and how she sucks me into her world! There are characters that I love and some that were created for you to dislike, and the slow growing romances have me aching for more! I'll be jumping into the next book immediately!
I really enjoyed these moments between America and Maxon. A touch of humour and a little vulnerability.

He raised his eyebrows. "Have there really been arguments over me? Don't you all realize I'm the one doing the choosing?"
"Actually, that was unfair. They're fighting over two things. Some fight for you, others fight for the crown. And they all think they've already figured out what to say and do so your choice will be obvious."
"Ah, yes. The man or the crown. I'm afraid some cannot tell the difference." He shook his head.
"Good luck there," I said dryly.

Paperback Page 116

His expression was affectionate but guarded. "I've met nearly every woman in this room, and I can't think of one who would make a better friend. I'd be glad to have you stay."
My relief was inexpressible.
"Do you think," Maxon asked, "that I could still call you 'my dear'?"
"Not a chance," I whispered.
"I'll keep trying. I don't have it in me to give up."

Paperback Page 130



Hosted by Anna @

Herding Cats & Burning Soup



I am a graduate of Radford University with a B.S. in History. I grew up in South Carolina and currently live in Christiansburg, Virginia with my electrical engineer hubby, car-obsessed son, and princess-loving daughter. I'm a #1 New York Times bestseller, woohoo! I'm also a valued customer at my local cupcake shop.

Things I hate:

When people fail to use turn signals, flying, salads.

Things I love:

Office supplies, boy bands, desserts.
read more "The Selection by Kiera Cass ~ Review & Quote-tastic (@kieracass)"