If you haven't read a book by Colleen Hoover yet, WHAT ARE YOU WAITING FOR? It Ends with Us was a fantastic read and I know I will pick it up in the future and read it again, it was THAT GOOD!!
Genre: NA Contemporary Romance
SOMETIMES THE ONE WHO LOVES YOU IS THE ONE WHO HURTS YOU THE MOST

Lily hasn't always had it easy, but that's never stopped her from working hard for the life she wants. She's come a long way from the small town in Maine where she grew up - she graduated from college, moved to Boston, and started her own business. So when she feels a spark with a gorgeous neurosurgeon named Ryle Kincaid, everything in Lily's life suddenly seems almost too good to be true.

Ryle is assertive, stubborn, and maybe even a little arrogant. He's also sensitive, brilliant, and has a total soft spot for Lily, but Ryle's complete aversion to relationships is disturbing.

As questions about her new relationship overwhelm her, so do thoughts of Atlas Corrigan - her first love and a link to the past she left behind. He was her kindred spirit, her protector. When Atlas suddenly reappears, everything Lily has built with Ryle is threatened.

With this bold and deeply personal novel, Colleen Hoover delivers a heart-wrenching story that breaks exciting new ground for her as a writer. It Ends With Us is an unforgettable tale of love that comes at the ultimate price.

This book contains graphic scenes and very sensitive subject matter.
I always know that if I'm looking for a strong and emotional read that Colleen Hoover will deliver it every time. So it's not surprising that I was swept away with the beauty and the message that this book delivered. I just know that this book will stay with me for some time to come.
It Ends with Us was written in the present, but the character would reminisce by reading her journal's from when she was 15/16. It was sweet to see she actually addressed them to someone, because she found it easier to talk to someone about her life. It was hard to see the struggles that she dealt with at home, but sweet to see her develop a relationship with someone who needed help themselves.
In the present, I enjoyed seeing Lily as an adult, and that despite everything she had the strength and determination to succeed. The relationship that she had with her mother was better and she supported Lily with every choice that she made.
What I loved most was watching the relationship between Lily and Ryle grow! I could feel the butterflies and the new feelings of meeting someone new. But over time Lily had to face some hard situations and made some decisions that were difficult. It was sad to see her struggle and sort through all her feelings.
There were other characters that I met that I loved as well. I was glad that despite everything, Lily did have people that she could rely on. She often struggled on her own, but when she opened up she had the support she needed.
This book was a powerful read that every girl should pick up. I love that it carried a deep meaning for me and that it was something that was personal to the author. Colleen Hoover has shown why she is such a fantastic author by creating characters that aren't perfect but in the end make the right decisions not only for themselves, but for those they love.
I picked a couple of quotes today, both of these moments were sweet!

"I had that picture made the day after I took it," he says. "It's been in my apartment for months now, because you were the most beautiful thing I'd ever seen and I wanted to look at it every single day."

Paperback Page 93

He pulls back to look down at me and when he sees my tears, he brings his hands up to my cheeks. "In the future . . . if by some miracle you ever find yourself in the position to fall in love again . . . fall in love with me." He presses his lips against my forehead. "You're still my favorite person, Lily. Always will be."

Paperback Pages 309-10



Hosted by Anna @

Herding Cats & Burning Soup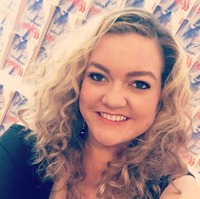 COLLEEN HOOVER is the #1. New York Times bestsellin
g author of
Slammed, This Girl, Point of Retreat, Hopeless, Losing Hope, Finding Cinderella, Maybe Someday, Ugly Love, Maybe Not, and Confess. She lives in Texas with her husband and their three boys. Please visit
ColleenHoover.com
.
Other reviews featuring Colleen Hoover