Wowzas!! Turning Back was a hot and sizzling read, but I should know better than to underestimate J.A. Huss. I enjoyed getting to know Rochelle and seeing the changes in Bric and Quin.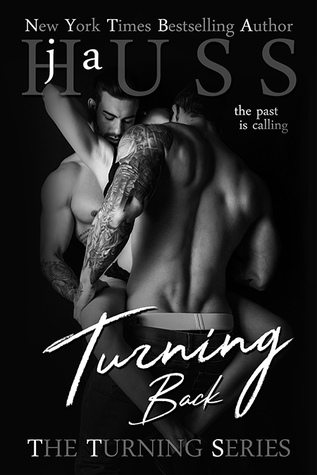 Genre: Erotic Contemporary Romance
I lived in the dark for three years. My whole world revolved around the whims and happiness of three men. It was just a trip into the forbidden. A way out of a bad situation and forward into nothingness.

Quin, with his easy smile and charming good looks. He was always there for me... Until he wasn't.

Smith, and his dispassionate attention. He was never there for me and he never regretted it.

Bric, the one who listened, but only to himself. Self-absorbed, self-obsessed, and self-serving. He was never the one I wanted.

And now he might be the only one I have left.

It was good while it lasted, I guess. But it could've been so much more. It could've been so much better.

And that's why I'm turning back.
What a fantastic read this was! I think because I met Bric and Quin in the previous book, I felt more attached to them in Turning Back. Rochelle, Bric and Quin had already developed feelings for one another because they had played the game together before. But old insecurities and the danger of being hurt kept them from overstepping once again.
Rochelle was the mystery woman that had me intrigued in the first book after her disappearing act. I enjoyed getting to know her and her reasons as to why she left. I could see that she carried deep feelings for both Bric and Quin, and she wanted the life that she once imagined she could have.
I liked seeing the change in Bric! He wasn't the cold and controlled man that he portrayed himself to be. He showed kindness and a sweetness that, I think, even surprised himself. However, he still was that master manipulator that I'd come to love, taking control in and out of the bedroom.
Quin was always the more emotional one of the guys and it was even more evident in Turning Back. He wore his heart on his sleeve and showed how much Rochelle's leaving hurt him. Little by little he became stronger and allowed Rochelle, and even Bric back into his heart.
It was good to see Smith and Chella again too, how they had changed and evolved over the past year. What Smith was carrying around... OMG! Who would've thought! But regardless of all the change they had been through, each of them supported one another when they needed it most.
J.A. Huss, you freaking rock girl! You created the hot and sexy world, given me this gorgeous thriple and made me fall in love! The characters were so different, they were scared and hurt, but would do anything to be together. And to see the family they had become was so cute! I am so excited to get into the next book, I tell ya!
Complimentary copy provided by the Author in exchange for an honest review.
*** Swoon Thursday was first bought to us by YA Bound. Since they are no longer with us, and with permission from Trisha Wolfe, I have decided that those of us that love to swoon need a central meet up point. So here it is ladies! I have a link up for everyone at the bottom of the post you can add your swoons to, and I'll set it up every week! So tell all other swooners out there to come on over, link up so we can visit each other! *** I've got two small moments today that made me smile...

"He'd be my friend again. You'd be my lover. We'd be what we were, Rochelle." He looks up from the baby and stares at me. "But we'd be better."

Kindle Arc Loc 710


"Forget it," I whisper back. "We're here now."
I wrap my arms around her middle, holding her close to me. Holding her tight so she's forced to rest her head on my shoulder and just… let Bric do whatever he wants. Rochelle on top of me again. It's all I need for now.

Kindle Arc Loc 1441


Originally inspired by

YA Bound
JA Huss is the New York Times and USA Today bestselling author of more than twenty romances. She likes stories about family, loyalty, and extraordinary characters who struggle with basic human emotions while dealing with bigger than life problems. JA loves writing heroes who make you swoon, heroines who makes you jealous, and the perfect Happily Ever After ending.

You can chat with her on Facebook (www.facebook.com/AuthorJAHuss), Twitter (@jahuss), and her kick-ass romance blog, New Adult Addiction (www.newadultaddiction.com).

If you're interested in getting your hands on an advanced release copy of her upcoming books, sneak peek teasers, or information on her upcoming personal appearances, you can join her newsletter list (http://eepurl.com/JVhAr) and get those details delivered right to your inbox.
a Rafflecopter giveaway
Would you like me to add the link up code to this post, so you can add it to your own posts?