I had forgotten that Colleen Hoover had written this book. It was first published on Wattpad and was a bit of a side project. I snatched it up while looking for an Audible read and it was fantastic! Three different and intense characters, one of which had a little crazy about him!
Genre: NA Contemporary Romance
Sloan will go through hell and back for those she loves.
And she does, every single day.
After finding herself stuck in a relationship with the dangerous and morally corrupt Asa Jackson, Sloan will do whatever it takes to get by until she's able to find a way out.
Nothing will get in her way.
Nothing except Carter.

Sloan is the best thing to ever happen to Asa. And if you ask Asa, he'd say he's the best thing to ever happen to Sloan. Despite Sloan's disapproval of Asa's sinister lifestyle, he does exactly what he needs to do in order to stay a step ahead in his business. He also does exactly what he needs to do in order to stay a step ahead of Sloan.
Nothing will get in his way.
Nothing except Carter.
I know this was written a while ago, but geez it blew my mind! I wish I'd picked it up earlier, and it was a brilliant book to listen to! The story is told from three perspectives: Sloan, Carter and Asa. I enjoyed seeing the lengths that Sloan and Carter would go for someone they loved and I tell ya, it was remarkable seeing into the twisted mind of Asa! It wasn't always a pleasant read and it was intense too, but I just hoped that Sloan would make it out of the impossible situation they were in.
Right from the opening chapters I could see Sloan and Carter had chemistry, but they soon realised it wouldn't be easy for them. Sloan is stuck in a situation that she doesn't know how to get out of, with Asa pulling all the strings and Carter now works for Asa. However not all is at it seems and I had a glimmer of hope that Carter may be able to get Sloan out.
This book was intense! Everyone was on tender hooks around Asa as you didn't know when he'd crack. He was possessive of Sloan, and had issues from his childhood that would constantly resurface. He had his own set of rules and would take anyone down who was a threat or stood in his way.
This was a different read than what I'm used too from Hoover, but it was still remarkable in its own way. I liked the way that she tackled this difficult situation and how I was hooked to learning more about the characters. The narrators delivered the story perfectly pulling me into the world and that I couldn't get myself out of. I just wished I'd picked this story up earlier... it was fantastic!
I have a few little quotes from the same interaction between Sloane and Carter. It really was a turning point in their relationship.

"Are you? Interested in fucking me?"
Jesus Christ. What is she doing?
I fight my own hands as they slide to her hips. "Not really," I say, my voice rough. "I'm much more interested in making love to you."

Kindle Page 177

"Everything I've ever said to you. Every look I've given you. Every time I've touched you. It was never for the job, Sloan. Not one fucking time. Do you understand that?"

Kindle Page 178

I squeeze my eyes shut and whisper in her damp hair. "You're all I see, Sloan. Beyond the job, beyond right and wrong. You're all I see." I press my lips to the side of her head, and when I feel her mouth press against my neck, I pull her closer. She's still gasping for breath, probably a combination of fear, anger, and our current proximity. We find each other in the dark, and when our lips finally meet, it's as if she's silently begging me to kiss away her doubts.

Kindle Page 179



Hosted by Anna @

Herding Cats & Burning Soup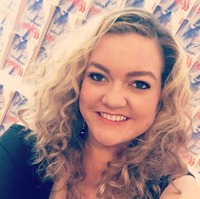 Colleen Hoover is the New York Times bestselling author of eleven novels
and five novellas. Hoover's novels fall into the New Adult and Young Adult contemporary romance categories.

Hoover published her first novel, Slammed, in January 2012. Since then, all her eligible works have become New York Times best sellers.

Colleen Hoover is published by Atria Books, a division of Simon & Schuster. Colleen also has several self-published titles.

In 2013, Colleen's third novel, Hopeless, was the first self-published novel to reach #1 on The New York Times, where it remained for several weeks. Hopeless went on to become one of the top 20 bestselling ebooks of 2013.

In 2015, Colleen's novel CONFESS won the Goodreads Choice Award for Best Romance. That was followed up in 2016 with her latest title, It Ends With Us, also winning the Choice Award for Best Romance.

Her novel CONFESS has been filmed as a series by Awestruck and is due to release this spring on go90. Katie Leclerc and Ryan Cooper star in the series.

Ugly Love is slated to begin filming in late 2017.

Colleen founded The Bookworm Box, a charity subscription service and bookstore, with her family in 2015. The Bookworm Box is a subscription service that provides readers with an exciting opportunity to receive signed novels in the mail each month from authors all over the world. All profits from the subscription service are donated to various charities each month. To date, The Bookworm Box has donated over $850,000 to help those in need.

Colleen's next release is WITHOUT MERIT, a contemporary romance novel due to release through Atria Books in October, 2017.

Colleen's current work-in-progress is an exciting revisit to a previous novel, not yet announced, due to release in early 2018.