Mariana Zapata is a new to me author, and I can tell you now that I'll be reading more of her work in the future! She has a fabulous way of developing her worlds and introduced me to characters that are loyal and passionate! I loved meeting Diana and Dallas! They were sweet and perfect together!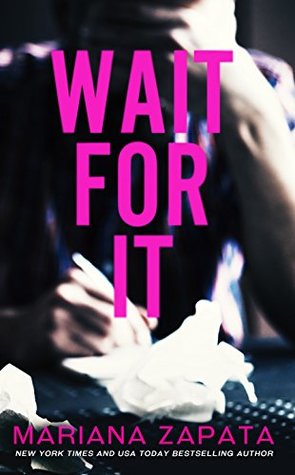 Genre: Contemporary Romance
Published: December 7th 2016
If anyone ever said being an adult was easy, they hadn't been one long enough. Diana Casillas can admit it: she doesn't know what the hell she's doing half the time. How she's made it through the last two years of her life without killing anyone is nothing short of a miracle. Being a grown-up wasn't supposed to be so hard. With a new house, two little boys she inherited the most painful possible way, a giant dog, a job she usually loves, more than enough family, and friends, she has almost everything she could ever ask for. Except for a boyfriend. Or a husband. But who needs either one of those?
I found this book when I was browsing Amazon the other day. I wasn't sure what I wanted to read, but after I read the blurb I had to read it. It started a little slow, as the author built up the world and introduced the characters, but soon I was hooked and found it hard to put it down! I loved all the main characters and enjoyed watching them struggle with current feelings and the demons in the past.
I could see a lot of myself in Diana, she was fun, a little quirky and didn't hold back with her sarcasm. She loved fiercely, but had lost so much, but she was determined to build the best life for herself and her boys. I loved how truthful she was and that she would sacrifice herself despite the consequences... she was such a delight to read about.
Dallas was broody and closed off to begin with, but each time he interacted with Diana, he opened up a little more. Despite his appearances, he was a kind, thoughtful and sweet guy who found it hard to let people in.
I loved this read so, so much! The way Diana and her boys interacted was sweet, and the banter between them was amusing. When things were serious, they would fight hard for one another, Diana would do anything for those boys and they in turn protected her as well. I loved how Dallas slowly embedded himself into their lives. Mariana Zapata is an author I will pick up again. Her stories feel real and are packed with emotion that touched my soul. I laughed, I cried and I swooned my way through this read, and I will definitely pick up more of her work, soon!
I just love the way that Dallas, the quiet, broody man, was able to express his feelings for Diana!

"If something had happened to you—" I choked. Me? He'd been worried about me too? The hand connected to the forearm I'd been touching came up to my eye level. His fingers went to my chin, cupping it as he looked directly into my eyes. "If something happened to you, I wouldn't be okay. I would never be okay," he practically hissed.

Kindle Loc 5255

"You told me you were a little in love with me, do you remember?"
How could I forget?
"But I wouldn't use 'little' to describe what I feel for you, Diana. I think you know that already."
It was my turn to blink. I squeezed our palms together. "So I'm not imagining it?" I pretty much whispered.
"No, baby, you're not." Dallas squeezed my fingers between his.

Kindle Loc 6627

Mariana Zapata began writing love stories soon after she learned how to spell. She probably shouldn't admit that she started sneaking romance novels from her aunt's bookshelves way before she was old enough to even understand what it meant when a man flipped up a woman's skirt… don't tell her mom. Luckily, she stuck to stories about princesses and princes for a while. In her teens, she wrote boy band fanfiction (there's still a website up somewhere on the internet with those masterpieces), and in her early twenties, she picked it back up again with Sookie Stackhouse and Twilight. Eventually, her significant other finally told her to do what she wanted to do and she began working on her original work. Her novels tend to include potty humor, bodily functions, and bad words. Mariana lives in a small town called Pagosa Springs, Colorado with her husband/best friend, Chris Letchford, and their two well-beloved (and emotionally manipulative) Great Dane children, Dorian and Kaiser. When she's not pretending to write, she's reading sci-fi, fantasy, steampunk or historical romance novels. You can usually find her harassing her dogs, being a hermit at home or cracking jokes at the expense of her family members.