I devoured this one as soon as I finished the second book. I was so keen to see what happened after the dramatic ending, and I was not disappointed!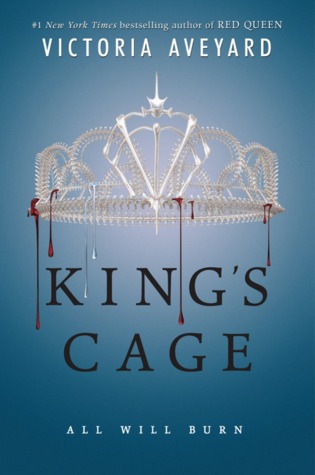 Published: February 7th 2017
In this breathless third installment to Victoria Aveyard's bestselling Red Queen series, allegiances are tested on every side. And when the Lightning Girl's spark is gone, who will light the way for the rebellion?

Mare Barrow is a prisoner, powerless without her lightning, tormented by her lethal mistakes. She lives at the mercy of a boy she once loved, a boy made of lies and betrayal. Now a king, Maven Calore continues weaving his dead mother's web in an attempt to maintain control over his country—and his prisoner.

As Mare bears the weight of Silent Stone in the palace, her once-ragtag band of newbloods and Reds continue organizing, training, and expanding. They prepare for war, no longer able to linger in the shadows. And Cal, the exiled prince with his own claim on Mare's heart, will stop at nothing to bring her back.

When blood turns on blood, and ability on ability, there may be no one left to put out the fire—leaving Norta as Mare knows it to burn all the way down.
I jumped into King's Cage immediately after reading Glass Sword, because that ending... Whoa! It was exciting to head back to the castle and get more of Maven, seeing the vulnerable boy behind the crown and what he had to endure growing up. Like Mare, my heart broke for that boy, but the King he was now had me seething! He was cruel and conspiring behind the scenes.
I felt sorry for Mare in the first half of the book while she suffered and lost hope. She was at breaking point, however there was always that little spark still inside her. I was shocked to see new alliances that were formed and enjoyed every twist that was thrown at me.
I liked that I saw other points of view in this installment as well. That way I knew what Cal was doing and a few of the other members in the crew. Cal appears to have grown a lot since losing Mare and I liked that change in him. He is more determined to get her back and to fight for his people and country.
I really enjoyed King's Cage and the direction that the author has taken this journey. The neighbouring countries are becoming involved and alliances have changed. It was quite the thrilling read and I cannot wait to return to see what happens next!
Two teasers, one featuring each of the brothers...

With a deep breath, I poke at the only weakness I suspect he might still have.
"Were you here?"
Blue eyes snap to mine. It's his turn to look confused.
"Through this." I glance at the bed, and then far away. It's painful to remember Samson's torture, and I hope it shows. "I dreamed you were here."
The warmth of him recedes, drawing back to leave the room cold with oncoming winter. His eyelids flutter, dark lashes against white skin. For a second, I remember the Maven I thought he was. I see him again, a dream or a ghost.
"Every second," he answers.
When a gray flush spreads across his cheeks, I know it's the truth.

Paperback Page 62

I look different too. A skeleton, an echo. He runs a limp lock of hair through his fingers, watching the brown fade to brittle gray. And then he touches the scars. At my neck, my spine, ending with the brand below my ruined dress. His fingers are gentle, shockingly so after we almost ripped each other apart. I am glass to him, a fragile thing that might shatter or disappear at any moment.
"It's me," I tell him, whispering words we both need to hear. "I'm back."
I'm back.
"Is it you, Cal?" I sound like a child.
He nods, his gaze never wavering. "It's me."
I move because he won't, taking us both by surprise. My lips mold to his with ferocity, and I pull him in. His heat falls like a blanket around my shoulders. I fight to keep my sparks from doing the same. Still, the hairs on his neck rise, responding to the electric current jumping in the air. Neither of us closes our eyes. This might still be a dream.

Paperback Page 334

Victoria Aveyard is an author and screenwriter, born and raised in a small
town in Western Massachusetts. Both her parents are public school teachers, as well as avid film, television, and literature fans. Victoria grew up on a steady diet
The Lord of the Rings, Star Wars, Indiana Jones, Harry Potter,
and
LOST
. She pursued a degree in Writing for Film & Television at the University of Southern California's School of Cinematic Arts. After graduating college in 2012, Victoria moved home from Los Angeles and began writing the manuscript that would become
Red Queen.

She has since published three #1 New York Times bestselling and USA Today bestselling books, two New York Times bestselling novellas, and continues pursuing her writing career while living full-time in Los Angeles, California.

The Red Queen series is currently being translated into 37 languages and counting.