I came across a copy of the movie tie-in of Before I Fall and I had to snatch it up. I really was blown away by this powerful, eye opening read! It was amazing and I know I need to see the movie now!
With this stunning debut novel, New York Times bestselling author Lauren Oliver emerged as one of today's foremost authors of young adult fiction. Like Jay Asher's Thirteen Reasons Why and Gayle Forman's If I Stay, Before I Fall raises thought-provoking questions about love, death, and how one person's life can affect so many others.

For popular high school senior Samantha Kingston, February 12—"Cupid Day"—should be one big party, a day of valentines and roses and the privileges that come with being at the top of the social pyramid. And it is…until she dies in a terrible accident that night.

However, she still wakes up the next morning. In fact, Sam lives the last day of her life seven times, until she realizes that by making even the slightest changes, she may hold more power than she ever imagined.
Before I Fall is one mean girl's story as she relived the same day over and over. It's a journey of self discovery for Sam, as each day she learned more about herself, and how her and her friends affected the people around them. It was a fantastic journey as Sam grew as a person and by the seventh day she became a girl I liked and I was proud of the person she transformed into.
During each day, although it was the same day, Sam made changes to try to get the right outcome so that she may move on. She relived the same situations and tried to make changes that would benefit her. She learned not to be so hostile or selfish, and tried to put others before herself, but it didn't seem to work.
I enjoyed watching Sam grow, and to realise that some of the choices that she made wasn't as important as she thought they were. She built new friendships with people she wouldn't usually look twice at. She also realised that some of her current acquaintances were a little toxic and I really loved seeing Sam interact more with Kent.
I read Before I Fall at every opportunity that I could because I needed to see how each day changed for Sam. I had hope for her and I had my fingers crossed that she would finally get to February 13... My only issue, the ending was too abrupt and I was left wondering and had more questions than answers. Overall, it really was an inspirational read, that will leave you questioning yourself on decisions you may make now or in the future.
*** Swoon Thursday was first bought to us by YA Bound. Since they are no longer with us, and with permission from Trisha Wolfe, I have decided that those of us that love to swoon need a central meet up point. So here it is ladies! I have a link up for everyone at the bottom of the post you can add your swoons to, and I'll set it up every week! So tell all other swooners out there to come on over, link up so we can visit each other! *** This was a long one, but so beautiful... I love the last few lines the most!

'I mean, with everything that's happened tonight...it's not the right time...and you're with Rob.'
'I'm not with Rob,' I say quickly. 'Not anymore.'
'You're not?' He's staring at me so intensely I can see the stripes of gold alternating with the green in his eyes like spokes of a wheel.
I shake my head.
'That's a good thing.' He's still staring at me like that, like he's the first and last person who will ever stare at me. 'Because...' His voice trails off, and his eyes travel slowly down to my lips, and there's so much heat roaring through my body I swear I'm going to pass out.
'Because?' I prompt him, surprised I can still speak.
'Because I'm sorry, but I can't help it, and I really need to kiss you right now.'
He puts one hand behind my neck and pulls me toward him. And then we're kissing. His lips are soft and leave mine tingling. I close my eyes, and in the darkness behind them I see beautiful blooming things, flowers spinning like snowflakes, and hummingbirds beating the same rhythm as my heart. I'm gone, lost, floating away into nothingness like I am in my dream, but this time it's a good feeling — like soaring, like being totally free. His other hand pushes my hair from my face, and I can feel the impression of his fingers everywhere that they touch, and I think of stars streaking through the sky and leaving burning trails behind them, and in that moment — however long it lasts, seconds, minutes, days — while he's saying my name into my mouth and I'm breathing into him, I realize this, right here, is the first and only time I've ever been kissed in my life.
He pulls away too soon, still cupping my face. 'Wow,' he says, out of breath. 'Sorry. But wow.'

Paperback Pages 297-8


Originally inspired by

YA Bound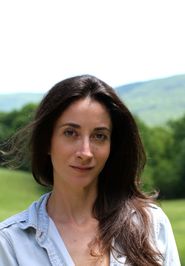 Lauren Oliver is the cofounder of media and
content development company Glasstown Entertainment, where she serves as the president of production. She is also the New York Times bestselling author of the YA novels Replica, Vanishing Girls, Panic, and the Delirium trilogy: Delirium, Pandemonium, and Requiem, which have been translated into more than thirty languages. The film rights to both Replica and Lauren's bestselling first novel, Before I Fall, were acquired by AwesomenessTV; Before I Fall is now a major motion picture and opened in theaters March of 2017. The sequel to Replica, titled Ringer, is her most recent novel and was released October 3rd, 2017.

Her novels for middle grade readers include The Spindlers, Liesl & Po, and the Curiosity House series, co-written with H. C. Chester. She has written one novel for adults, Rooms.

A graduate of the University of Chicago and NYU's MFA program, Lauren Oliver divides her time between New York, Connecticut, and a variety of airport lounges.
Would you like me to add the link up code to this post, so you can add it to your own posts?