Author:
Chloe Neill
Series: Chicagoland Vampires #10
Published: August 5th 2014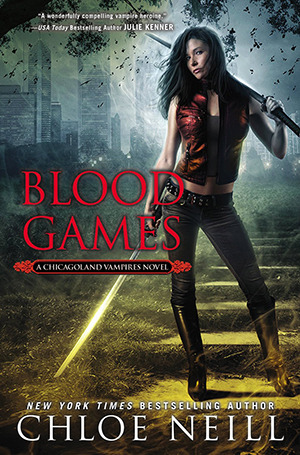 I haven't shared a paranormal swoon in a while, but I had to share a Merit and Ethan moment... I love them to bits!
My breath hitched at the sight of him, at the sudden silvering of his eyes . . . and his sudden and obvious arousal. "Merit," he said, the word a low and lusty growl. We were predators in a haze of bloodlust, facing each other like warriors prepared for another battle.
"Ethan," I managed, gripping the doorjamb to stay upright. "Blood." He stalked forward, steam rising from his body, and took my face in his hands. His mouth crushed down onto mine, tongue and fangs and lips entwining. We sparred with our kiss, antagonizing and provoking. He was moved by lust, maybe love. I was moved by lust for body and blood. For all that he could offer, and all that I would take.
~ Kindle Arc Loc 2827
My review, interview and giveaway will be up later today!
While Merit didn't choose to become a vampire or Sentinel of Cadogan House, she vowed to fight for her House and its Master, and she's managed to forge strong alliances with powerful supernaturals across Chicago. But even though Merit has had wild adventures, this may be her deadliest yet...

A killer is stalking Chicago, preying on humans and leaving his victims with magical souvenirs. The CPD hasn't been able to track the assailant, and as the body count rises, the city is running out of options. Vampires and humans aren't on great terms, but murder makes for strange bedfellows. Can Merit find the killer before she becomes a target?

From the book you're currently reading, or one you just finished, tell us what made you SWOON. What got your heart pounding, your skin tingling, and your stomach fluttering.

Shout it out on Twitter with the hashtag #YABound, post it here in the comments, or grab the adorable button above and share it on your blog! I want to know & so do the chicks at YABound!
Did you get swooned this week? Please leave a comment below with your Swoon link so I can check out yours too!!
Thanks for stopping by and have a great Thursday!!