YES! The final book in the
Mister
series is HERE! And what a finale it was! Plenty of action, sexy moments and twists to keep your head spinning!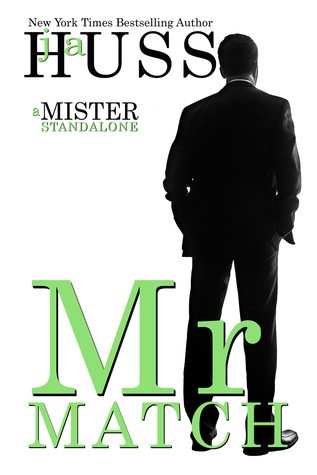 Genre: Contemporary Romance
Oliver Shrike thinks ahead. He likes to make lists and tick off boxes. He plans, he plots, and he's got everything under control.

Until one day he sees my videos on his dating site. The private erotic videos I make just for him.

When I'm looking at the camera I can practically see his face. Hear the internal arguments. Feel his desire.

Because I'm that kind of woman.

You should delete my videos, Oliver Shrike. It's your job to keep that dating site on the up and up.

But you don't, do you?

You watch them. You get off to them. You crave them.

Every week I make a new one with you in mind. I've hooked you now, Mr. Match. You've been in control for way too long and this is where it ends.

Mr. Match is the last book in the Mister Series. NOT a standalone book.
The Mister Series
Mr. Perfect
Mr. Romantic
Mr. Corporate
Mr. Mysterious
Mr. Match
Ahhh... Huss! You and your mind-tripping reads! I bloody love them, and you sure had my head in a spin reading Mr Match! It was amazing to see how much Katya and Oliver were connected. And how almost all loose threads were tied up. It was another complex, sizzling read and I was on edge right until the final page!
Katya, I knew was up to no good right from the start. I did like that she had history with Oliver, but I could see that she was holding back. She was a kind hearted person, looking out for those she loved, but went through events that no tenn should endure.
I liked that Oliver waited for Katya. Even four years earlier he knew she was the one. He was patient, but carried on the rest of his life as normally as he could. He had his own secrets, that took time to reveal, and boy did they catch me by surprise!
The chemistry between Katya and Oliver was off the charts! I loved seeing a little of Oliver's father (Spencer) in him and how he expressed himself with his artistic flair! That made me swoon, seeing how romantic he could be.
I loved that this final book was set back in Fort Collins. It was good that all the Mister characters were together for the final showdown. I also got tiny glimpses at some of the original characters that made my heart swell for them.
The storyline... a twisted, evilly crafted, mind bender, and gosh how I loved it! It was interesting to see how things were tied together, and how deep it all went! I love the way that J.A. Huss always keeps me guessing. She weaves twist after twist into the story, and you never really know who the good/bad guys are. I'm looking forward to her next project, to see if she can blow my mind even more!
Complimentary copy provided by the Author in exchange for an honest review.
*** Swoon Thursday was first bought to us by YA Bound. Since they are no longer with us, and with permission from Trisha Wolfe, I have decided that those of us that love to swoon need a central meet up point. So here it is ladies! I have a link up for everyone at the bottom of the post you can add your swoons to, and I'll set it up every week! So tell all other swooners out there to come on over, link up so we can visit each other! *** Really, the last line is my favourite part of this swoon!

"I choose you," he says. His fingertips gently brush against my cheek. "It felt like you were gone forever and now it feels like you never left."
"It's funny how that works," I say.
But he shakes his head slowly as he plays with my hair. "There's nothing funny about it. It's just chemistry, Katya. There are so many open roads and we ended up walking this one together. If you think it's an accident, then you hurt me. There's no greater purpose for this life than to find the partner who understands your soul."

Kindle Arc Loc 2394



Originally inspired by

YA Bound
JA Huss is the New York Times and USA Today bestselling author of more than twenty romances. She likes stories about family, loyalty, and extraordinary characters who struggle with basic human emotions while dealing with bigger than life problems. JA loves writing heroes who make you swoon, heroines who makes you jealous, and the perfect Happily Ever After ending.

You can chat with her on Facebook (www.facebook.com/AuthorJAHuss), Twitter (@jahuss), and her kick-ass romance blog, New Adult Addiction (www.newadultaddiction.com).

If you're interested in getting your hands on an advanced release copy of her upcoming books, sneak peek teasers, or information on her upcoming personal appearances, you can join her newsletter list (http://eepurl.com/JVhAr) and get those details delivered right to your inbox.
a Rafflecopter giveaway
Would you like me to add the link up code to this post, so you can add it to your own posts?