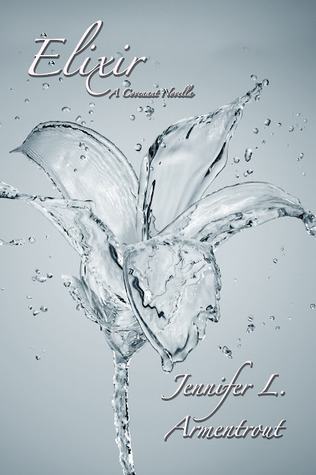 Title: Elixir
Author: Jennifer L. Armentrout
Series: Covenant #3.5
Genre: YA Paranormal Romance
Published: November 27th 2012
Aiden St. Delphi will do anything to save Alex.
Even if it means doing the one thing he will never forgive himself for.
Even if it means making war against the gods.
What can I say but Wow!! This was an exciting short story in the Covenant series!! Deity ended on a bit of a cliffhanger, and Elixir is a bridge book between Deity and Apollyon, told from Aiden's POV. I loved getting to know Aiden better, seeing the depth of his feelings for Alex and what he is prepared to do to bring her back to him.
Aiden, Alex and their crew are living secluded from the world as they figure out a way to help Alex. Everyone is in a flap about it, as war is brewing between the Gods and the world. Apollo is able to find out more details about Seth and Alex, but they are not all happy developments. The short term solutions were heartbreaking, especially for Aiden, but I loved seeing his determination to save her.
Elixir is a MUST READ for those reading the Covenant series. I learnt so much in this short read, which I read in one hit. There are lots of interesting developments, as well as a tiny bit of insight into Aiden which was sweet. I cannot wait to read Apollyon, because Aiden made some decisions and I am keen to see how things will turn out now!
Other reviews featuring Jennifer L. Armentrout

Writing as J.Lynn