Swear on This Life releases tomorrow, and I devoured this book within a day! It was such a beautiful read as I relived Emiline's life: the loss, the heartbreak
and
the love. You need to get this book!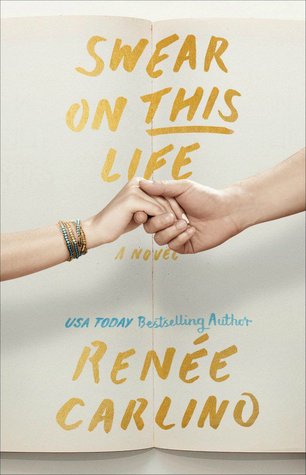 Title: Swear on This Life
Genre: NA Contemporary Romance
When a bestselling debut novel from mysterious author J.Colby becomes the literary event of the year, Emiline reads it reluctantly. As an adjunct writing instructor at UC San Diego with her own stalled literary career and a bumpy long-term relationship, Emiline isn't thrilled to celebrate the accomplishments of a young and gifted writer.

Yet from the very first page, Emiline is entranced by the story of Emerson and Jackson, two childhood best friends who fall in love and dream of a better life beyond the long dirt road that winds through their impoverished town in rural Ohio.

That's because the novel is patterned on Emiline's own dark and desperate childhood, which means that "J. Colby" must be Jase: the best friend and first love she hasn't seen in over a decade. Far from being flattered that he wrote the novel from her perspective, Emiline is furious that he co-opted her painful past and took some dramatic creative liberties with the ending.

The only way she can put her mind at ease is to find and confront "J. Colby," but is she prepared to learn the truth behind the fiction?
If you haven't read Renee Carlino before, you need to fix that immediately! I have read two books of hers now —
Before We Were Strangers
and
Swear on This Life
—
and I've loved both of them! This latest book was an emotional ride as I got to know Emiline, from the stories
from
the book and from what she shares from her past and present.
I really enjoyed how I got to know Emiline through the stories told in the book by J. Colby. Names and details were changed, but a lot of the story remained true and it was heartbreaking to read what she went through as a child. I often shed a tear for that girl, and wanted her to have a better life with Jase in it. But there were so many hurdles for them to get over and it seemed that they would never get there.
I found it amusing once Em finally confronted Jase! She was so angry and wanted to tear him a new one! I could also see they still had feelings for one another and found it hard to deal with their emotions. The book helped both of them work through their issues, and I loved seeing the change in Em as she faced her past head on.
It's told from Emiline's point of view, and alternated between her perspective and the book by J. Colby. I enjoyed how it was written and felt more connected to Emiline. I want to tell you so much about this book, but it would give too much away. I will say it was beautifully written, the characters were genuine and even though they were broken, were working to find peace in their lives. Renee Carlino rocked me once again and has cemented herself as a must read author for me!
Once Emiline and Jase met once again, I knew the confrontation would be hard. I could see they still had a strong connection, but emotion was running high!

He frowned. "What's wrong, Emiline?"
"Stop saying my name." I balled my hands into fists. "I can't ... I'm just ... I'm frustrated. I came here to chew you out and you're just standing there like ... ugh."
He chuckled and uncrossed his arms. "Standing here like what? Chew me out if you have to. Go ahead."
"You're just ... dammit ... Why are you so good-looking?" The last part came out like a cry. I wanted to punch the smirk off his face.
"Well, you're beautiful. So there." I froze. "Then again, you always were ."
"Oh, don't charm me with your wordy magic."

Paperback Arc Page 173



Hosted by Anna @

Herding Cats & Burning Soup



Renée Carlino is a screenwriter and bestselling author of
romantic
women's novels. She lives in Southern California with her husband, two sons, and their sweet dog June. When she's not at the beach with her boys or working on her next project, she likes to spend her time reading, going to concerts, and eating dark chocolate.