It has been a long time coming, but I picked up my first
Penelope Douglas read! A few of my friends (Brandee, Magen and Christy) have raved about her book Bully, and I know I have been missing out on some amazing writing. However, I loved this dark romance of hers and I'm excited that there is going to be another book from this world!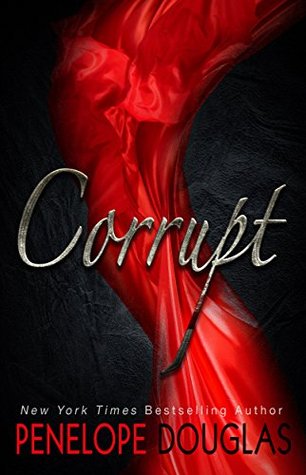 From New York Times bestselling author Penelope Douglas comes a new dark romance...

Erika
I was told that dreams were our heart's desires. My nightmares, however, became my obsession.

His name is Michael Crist.

My boyfriend's older brother is like that scary movie that you peek through your hand to watch. He's handsome, strong, and completely terrifying. The star of his college's basketball team and now gone pro, he's more concerned with the dirt on his shoe than me.

But I noticed him.

I saw him. I heard him. The things that he did, and the deeds that he hid... For years, I bit my nails, unable to look away.

Now, I've graduated high school and moved on to college, but I haven't stopped watching Michael. He's bad, and the dirt I've seen isn't content to stay in my head anymore.

Because he's finally noticed me.

Michael
Her name is Erika Fane, but everyone calls her Rika.

My brother's girlfriend grew up hanging around my house and is always at our dinner table. She looks down when I enter a room and stills when I am close. I can always feel the fear rolling off of her, and while I haven't had her body, I know that I have her mind. That's all I really want anyway.

Until my brother leaves for the military, and I find Rika alone at college.

In my city.

Unprotected.

The opportunity is too good to be true, as well as the timing. Because you see, three years ago she put a few of my high school friends in prison, and now they're out.

We've waited. We've been patient. And now every last one of her nightmares will come true.

*Corrupt is a STANDALONE dark romance with no cliffhanger. It is suitable for ages 18+.*
I was in the mood for something a little darker and I decided it was time to read Corrupt, since it's been on my
Ki
ndle
A
pp
for a while now. This book had me on edge the entire time I was reading it, and I was excited! Waiting for all the details from the past to be revealed so I understood why things were happening in the present. It was an intense, sexually charged read and I loved it!
Erika/Rika decided it was time to spread her wings so she split from her boyfriend Trevor and transferred to a college in Meridian City by herself. It was nice to see her take on a new journey on her own, but it soon become apparent it was all too good to be true, as people from her past came back and made her life difficult.
Michael and Rika's families were close while they were growing up, but he always kept her at arm's length as his brother Trevor was groomed to be with Rika. I learned about one night that Rika spent with Michael, and he was determined to make Rika pay for what happened to his friends. Together they came up with a plan that was twisted and dark, but it made one intense
and
exciting story.
Getting both Rika and Michael's perspectives in this book showed me that they always had a connection. The sexual tension between them was always there, but wasn't acted upon because of Rika's age. They both had dark sexual desires
and when they were together they had to act on them.
This book had me hooked from the beginning and I found it so hard to put down.
Penelope Douglas
alternated between the past and the present, revealing details along the way. I read the book fast because I NEEDED to know what happened! It was written so well, and I became attached to secondary characters that I want to see more of too! There were some scorching sexual encounters, I tell ya! If you'd like a bit of a darker romance read, you MUST pick this one up!
*** Swoon Thursday was first bought to us by YA Bound. Since they are no longer with us, and with permission from Trisha Wolfe, I have decided that those of us that love to swoon need a central meet up point. So here it is ladies! I have a link up for everyone at the bottom of the post you can add your swoons to, and I'll set it up every week! So tell all other swooners out there to come on over, link up so we can visit each other! *** The first swoon was so sweet, the second, a little steamy!

"Rika," he whispered against my neck. "I need you. I need you every day, every hour, every minute…"

Kindle Page 379

"It means that you're going to finish school, but I respectfully request that, when you come home, you do me before your homework," he continued, brushing his thumb over my clit through my panties. "And it means that you're going to have to constantly look over your shoulder for what I have up my sleeve next, because I'll always be coming for you."

Kindle Page 483


Originally inspired by

YA Bound
Penelope Douglas is a New York Times, USA Today, and Wall Street
Journal bestselling author living in Las Vegas with her husband and their daughter. When she's not writing, you'll find her cleaning or trolling the IMDb message boards, arguing with other Star Wars fanatics. Her books include the Fall Away series (Bully, Until You, Rival, Falling Away, and Aflame). Please look for her recent standalones, Corrupt and Misconduct. Available now.