I'm really enjoying
Abbi Glines lately, and I loved the first book in
The Field Party series... so I must have more!
S.C. Stephens has something new coming... yes please!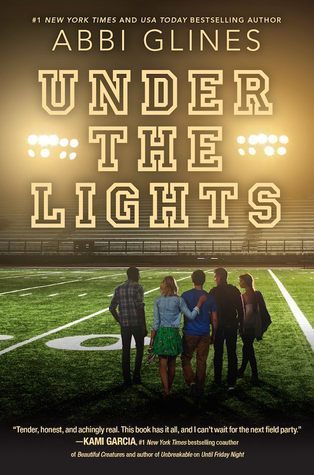 Series: The Field Party #2
Genre: NA Contemporary Romance
Expected Publication: August 23rd 2016
In the follow-up to Abbi Glines's #1 New York Times bestseller Until Friday Night—which bestselling author Kami Garcia called "tender, honest, and achingly real"—three teens from a small southern town are stuck in a dramatic love triangle.

Willa can't erase the bad decisions of her past that led her down the path she's on now. But she can fight for forgiveness from her family. And she can protect herself by refusing to let anyone else get close to her.

High school quarterback and town golden boy Brady used to be the best of friends with Willa—she even had a crush on him when they were kids. But that's all changed now: her life choices have made her a different person from the girl he used to know.

Gunner used to be friends with Willa and Brady, too. He too is larger than life and a high school football star—not to mention that his family basically owns the town of Lawton. He loves his life, and doesn't care about anyone except himself. But Willa is the exception—and he understands the girl she's become in a way no one else can.

As secrets come to light and hearts are broken, these former childhood friends must face the truth about growing up and falling in love…even if it means losing each other forever.
Genre: NA Contemporary Romance
Expected Publication: August 23rd 2016
For Mackenzie Cox, racing motorcycles is in her blood. Born into a family legacy, she's determined to show the world that she has inherited her father's talent in this male-dominated sport. The last thing Kenzie needs is to be antagonised by her rival team's newest rider, Hayden Hayes. Hayden, exceedingly arrogant and outrageously attractive, immediately gets under Kenzie's skin and she can't help but be distracted.

As Kenzie and Hayden push each other on the track, the electric energy between them off the track shifts into an intense - and strictly forbidden - attraction. The only rule between their two ultra-competitive teams is zero contact. Kenzie needs a win, and she also needs to stay away from Hayden. Unfortunately for her though, one thing has become all too clear: she can't.

Fuelled by passion, driven by desire, Hayden and Mackenzie both want to win more than anything else. Except for, maybe, each other. But anger, jealousy and extreme competitiveness aren't their only obstacles . . .
Waiting on Wednesday is a weekly meme hosted by Jill @ Breaking the Spine where I have the chance to spotlight upcoming releases that I'm eagerly anticipating.