You all know I love a good romantic comedy... so I think I'll need Well Hung!
And I'm dying for
Empire of Storms...
Hurry up and get here!
Expected Publication: September 12th 2016
Here's what you need to know about me — I'm well-off, well-hung and quick with a joke. Women like a guy who makes them laugh—and I don't mean at the size of his d*ck. No, they want their funny with a side of huge… not to mention loyal. I've got all that plus a big bank account, thanks to my booming construction business. Yup. I know how to use all my tools.

Enter Natalie. Hot, sexy, smart, and my new assistant. Which makes her totally off limits... 

Hey, I'm a good guy. Really. I do my best to stay far away from the kind of temptation she brings to work.

Until one night in Vegas… 

Yeah, you've heard this one before. Bad news on the business front, drowning our sorrows in a few too many Harvey Wallbangers, and then I'm banging her. In my hotel room. In her hotel room. Behind the Titanic slot machine at the Flamingo (don't ask). And before I can make her say "Oh God right there YES!" one more time, we're both saying yes—the big yes—at a roadside chapel in front of a guy in press-on sideburns and a shiny gold leisure suit. 



But it turns out what happened in Vegas didn't stay in Vegas. And now, my dick doesn't stay in my pants when she's around. I try to resist. Honest. But the more we try to keep our hands to ourselves, the more we end up naked again, and the more time I want to spend with her fully clothed, too.

The question now is…do I take this woman to be my ex-wife?


*WELL HUNG is the next sexy, funny standalone romantic comedy to feature characters first seen in BIG ROCK and MISTER O. *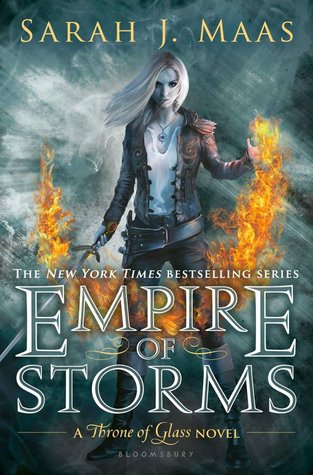 Series: Throne of Glass #5
Expected Publication: September 6th 2016
The long path to the throne has only just begun for Aelin Galathynius. Loyalties have been broken and bought, friends have been lost and gained, and those who possess magic find themselves at odds with those don't.

As the kingdoms of Erilea fracture around her, enemies must become allies if Aelin is to keep those she loves from falling to the dark forces poised to claim her world. With war looming on all horizons, the only chance for salvation lies in a desperate quest that may mark the end of everything Aelin holds dear.

Aelin's journey from assassin to queen has entranced millions across the globe, and this fifth installment will leave fans breathless. Will Aelin succeed in keeping her world from splintering, or will it all come crashing down?
Waiting on Wednesday is a weekly meme hosted by Jill @ Breaking the Spine where I have the chance to spotlight upcoming releases that I'm eagerly anticipating.