Has anyone read Kristen Proby before? I quite enjoyed my first venture into her work! Eli was sweet and Kate needed a change in her life. Who knew these two would fit together!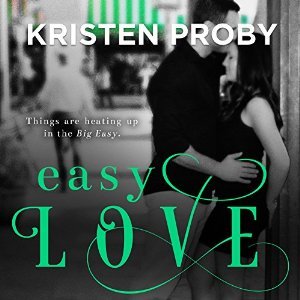 Author: Kristen Proby
Narrators: Sebastian York & Rachel Fulginiti
Genre: Contemporary Romance
Eli Boudreaux's family has built ships and boats in Louisiana for generations. He comes from a hard working, wealthy family and his empire is growing by leaps and bounds. At thirty, he is the youngest CEO to ever head Bayou Enterprises, co-chairing with his eldest brother. His head for business and his no-nonsense work ethic is also quickly making him the best the company has seen in generations. His staff admires him, women adore him and Eli's family is solid. But he's recently discovered that someone on the inside of his business is stealing from him and he's determined to find out who.

Kate O'Shaughnessy is hired by companies all over the world to slip inside and investigate every member of the organization from the CEO down to the custodial staff to find the person or persons responsible for embezzling. She's excellent at blending, becoming part of the team, and finding the weakest link. She's smart, quick-witted, and she's now been hired by Bayou Enterprises, specifically Eli Boudreaux. The attraction is immediate and the chemistry is off the charts, but Kate has heard all about Eli's playboy past and she has a job to do. Sleeping with the boss isn't a part of that job, even if just the sound of her name rolling off that Cajun tongue and the way he fills out a designer suit does make her sweat.

Eli's southern charms surprise Kate. The man whose reputation labels him as a ruthless, callous womanizer is not the man she's coming to know intimately. He's generous, protective and makes her smile. Cracking through Kate's cool, reserved demeanor and discovering her love of sexy, expensive lingerie is a challenge Eli can't resist, but her sweet nature, love of family and sense of humor pull at him in ways no one else ever has.

But when the person responsible for trying to single-handedly dismantle Eli's empire comes to light, and it's time for Kate to move on, to what lengths will Eli go to keep the woman he's fallen in love with by his side?
Kristen Proby
is another one of those authors that I knew I had to read, but I hadn't had a chance to. So when I saw that her
Boudreaux
series was on sale I had to get one and I figured, why not Whispersync while I'm at it. I really enjoyed listening to the narration by both
Sebastian York
and
Rachel Fulginiti.
They were easy to listen to and swept me away into the story.
Eli was known as a bit of a player, and from what his siblings portrayed, he picked up
a lot
of girls. So they tried to tell him to stay away from Kate when she came to town to help them with a work problem. Kate went to college with Savannah and Beau, but she never met the oldest sibling, Eli until she took on this job. I could see that they were attracted to one another; Eli was very charming and did sweet things for Kate. However, Kate's previous relationship was toxic and she didn't intend to jump into another one in the near future, but there was something about Eli that drew her to him.
I loved seeing both Eli and Kate together. They connected effortlessly and genuinely liked being together. Eli was very thoughtful, and did everything he could to spend time with Kate; showing her around New Orleans and making sure she was fed. He made her feel at ease in a new town. Kate had been struggling before she came to New Orleans and the change in scenery was good for her. I could see that she was a bit fragile and was finding her feet again, but I didn't know how deep the hurt went. Her story made my chest hurt... and I was glad she had the
Boudreaux family to support her.
Kristen Proby is an author I would like to read more of in the future. I liked meeting the Boudreaux family and how close they all are. They are a close knit family and they support each other throughout everything. Savannah's story tied into this one and I am looking forward to what happens next for her.
*** Swoon Thursday was first bought to us by YA Bound. Since they are no longer with us, and with permission from Trisha Wolfe, I have decided that those of us that love to swoon need a central meet up point. So here it is ladies! I have a link up for everyone at the bottom of the post you can add your swoons to, and I'll set it up every week! So tell all other swooners out there to come on over, link up so we can visit each other! *** I have a couple of fun teasers today... Don't we all lose our filter once alcohol is added to the mix!

"Kate." I glance at Eli, who is pinching the bridge of his nose with his thumb and forefinger.
"What?"
"So, liquor makes you come on to men, then? Is it true that tequila makes your clothes fall off?"
"No, tequila makes me throw up. Vodka makes my clothes fall off." I grin and sip my water. "You might want to take notes."

Kindle Page 90

"You okay?"
"Yep, I was just checking out your butt." He shakes his head and laughs. "And?"
"It's there."
"Is that all?"
"And it's impressive."
He moves my hand to his other hand and cups my ass in the palm of his hand, gives it a pat, then takes my hand back in his. "Likewise, dawlin'."

Kindle Page 91


Originally inspired by

YA Bound
Kristen is the author of the Amazon and USA Today bestselling With Me In
Seattle series. She has a passion for a good love story and strong characters who love humor and have a strong sense of loyalty and family. Her men are the alpha type; fiercely protective and a bit bossy, and her ladies are fun, strong, and not afraid to stand up for themselves.

Kristen spends her days with her muse in the Pacific Northwest. She enjoys coffee, chocolate and sunshine. And naps.