I am up to the seventh book in the Kate Daniels series! The ninth book will be here before I know it and I'm determined to catch up! Have you read this series yet?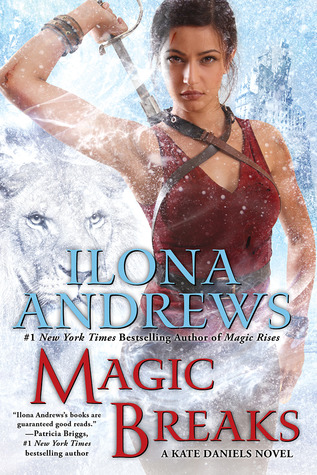 No matter how much the paranormal politics of Atlanta change, one thing always remains the same: if there's trouble, Kate Daniels will be in the middle of it…

As the mate of the Beast Lord, Curran, former mercenary Kate Daniels has more responsibilities than it seems possible to juggle. Not only is she still struggling to keep her investigative business afloat, she must now deal with the affairs of the pack, including preparing her people for attack from Roland, a cruel ancient being with god-like powers. Since Kate's connection to Roland has come out into the open, no one is safe—especially those closest to Kate.

As Roland's long shadow looms ever nearer, Kate is called to attend the Conclave, a gathering of the leaders from the various supernatural factions in Atlanta. When one of the Masters of the Dead is found murdered there, apparently at the hands of a shapeshifter, Kate is given only twenty-four hours to hunt down the killer. And this time, if she fails, she'll find herself embroiled in a war which could destroy everything she holds dear…
I am slowly catching up in the Kate Daniels series, and hope to get to read Magic Shifts soon, so I can grab Magic Binds as soon as it's released in September.
Magic Breaks
was another thrilling instalment in the series; it was intense, full of action, and sweet moments between Kate and Curran. But by the end of the book my jaw hit the floor as the game has now changed!!
Things seem to be back to normal for Kate and Curran since their return from going to the Black Sea to secure the pancrea. Curran gets called away on a hunt and Kate needs to attend the Conclave, the meeting between the Pack and the People. But in true Kate Daniels style, nothing she does occurs without twists, and soon she's trekking off to hunt down a murderer. With a loyal crew by her side she travels through Atlanta to the crime scene, so that she can prevent war between the Pack and the People.
I love every moment of being in this world! The storyline continues to suck me in and I get swept away fighting monsters, vampires and good old Hugh d'Ambrey! He's still fascinated by Kate and seems to follow her everywhere. I love Curran and how fiercely he loves Kate and will tear the world apart to be by her side.
Ilona and Gordon, the masterminds behind this series, continue to blow me away with every book in this series. The world is remarkable, and they continue to create characters more gruesome than the last! The banter between all the characters is amusing, but also how loyal they are to one another and will fight until the death is remarkable. They have created a huge family dynamic that anyone would want to be a part of. But the bombshell at the end had my jaw hitting the floor and now I must get my hands on the next book!
I just love how much these two mean to one another! This scene showed me that Curran would do anything for Kate and cares for her deeply...

He smelled like Curran. He felt like him. I buried my face in the bend of his neck. His skin was so hot, it burned.
"Don't die on me." He kissed my face, pulling off his jacket. "Don't die on me."
I couldn't stand. I just slumped there on top of the grate, holding on to him.
He wrapped me in his jacket, closed his arms around me, and jumped. Then we were in a narrow hallway. He carried me through it.
"I love you," I told him. "I love you, too." His voice was raw. "Stay alive, Kate."

Paperback Page 239



Hosted by Anna @

Herding Cats & Burning Soup



"Ilona Andrews" is the pseudonym for a husband-and-wife writing team.
Ilona is a native-born Russian and Gordon is a former communications sergeant in the U.S. Army. Contrary to popular belief, Gordon was never an intelligence officer with a license to kill, and Ilona was never the mysterious Russian spy who seduced him. They met in college, in English Composition 101, where Ilona got a better grade. (Gordon is still sore about that.)

Gordon and Ilona currently reside in Texas with their two children and many dogs and cats.

They have co-authored two NYT and USAT bestselling series, the urban fantasy of Kate Daniels and romantic urban fantasy of The Edge and working on the next volumes for both.