Today I am bringing you my review for King, the fist book in the King series by
T.M. Frazier. I am kicking myself that I haven't started this series earlier! I love a good dark romance, and this was exactly what I needed!
Title: King & Tyrant: Limited Edition Collection
Book one and two in the King series.

King:

Homeless. Hungry. Desperate. Doe has no memories of who she is or where she comes from. A notorious career criminal just released from prison, King is someone you don't want to cross unless you're prepared to pay him back in blood, sweat, sex or a combination of all three. King's future hangs in the balance. Doe's is written in her past. When they come crashing together, they will have to learn that sometimes in order to hold on, you have to first let go.

Tyrant:

I. Remember. Everything. But the relief I thought I would feel never comes, and I'm more afraid now than I was the morning I woke up handcuffed in King's bed. Because with the truth comes dark secrets I was never meant to know. I will put the lives of those I love most at risk if I let on that my memory has returned, or if I seek help from the heavily tattooed felon who owns me body and soul. I don't know if I'm strong enough to resist the magnetic pull toward King that grows stronger every day. He's already saved me in more ways than one. Now it's my turn to do whatever it takes to save him. Even if that means marrying someone else…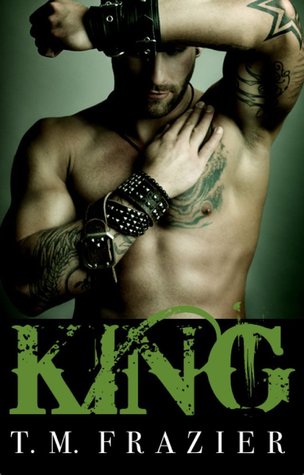 I've been meaning to get into this series for a while and when it came up for sale in a pack with Tyrant I jumped on it. Then it took me a while to actually read it due to the hectic holiday period down here in Aus, but now that I've read them, I am ashamed I didn't read it earlier… it was brutal, heartbreaking and brilliant!
King has come out of jail a changed man. He sees the world differently, and when he comes across a girl with white blonde hair, she stirs feelings in him he doesn't know how to control. King had done some evil things in this past, but he always protects what's his and soon he classes Pup as his.
Doe/Pup has had a difficult time lately; her story was difficult and she was unsure of how to find help. When her friend double crosses her, King decides she's now under his protection for the time being. But the more time they spend together, the harder it is for them to hide their feelings.
I loved seeing the relationship between King and Doe/Pup grow. They often fought, but it quickly turned into passion and these two were hot together. I could see that King would do anything to protect her, including murder.
I really loved two supporting characters too: Preppy and Bear. Preppy have been friends with King since they were twelve years old. They had plans from that early age, which they followed through on and always have each other's backs. Preppy was an entertaining character! He was quirky, had a dirty mouth, and knew how to cook some mean pancakes! Bear became a close friend of theirs too, but he followed his father's footsteps and patched into his father's MC. He liked Doe from his first interaction with her and would do anything to protect her.
King was a fantastic read! I loved every moment of it; the intense relationship, the heartbreaking situations, and the pure devotion the characters had for one another. I laughed at the banter and shed a few tears through the tough times because
T.M. Frazier sure knows how to weave a difficult storyline together! I am glad that I already had Tyrant to read after I finished, because that ending leaves you wanting more!
This moment was hilarious! There was a noise, King went to check it out and told her to stay down and not to move... but you know a girl's hunger can never wait!!

With my sandwich still in launch-into-my-mouth position, I looked up from behind the bread to see both King and Bear standing on the top of the seawall, peering down at me.
Bear looked just a good as he did the night I met him, but now, he looked even better. Because he was shirtless. His ab muscles glistened with sweat. I thought King had a lot of tattoos, but Bear didn't have a single inch of available real estate left on his skin.
King spoke first. "Oh no, don't worry about me. I'm fine. Just went to check out what that bomb like noise was, but you go ahead and finish your sandwich. We'll wait." He was smiling out of the corner of his mouth.

Kindle Loc 1851 of King/Tyrant duo



Hosted by Anna @

Herding Cats & Burning Soup



T.M. (Tracey Marie) Frazier resides in sunny Southwest Florida with her husband and three feisty fur kids.
She attended Florida Gulf Coast University where she specialized in public speaking. After years working in real estate and new home construction, she decided it was finally time to stop pushing her dreams to the back burner and pursue writing seriously.
In the third grade she wrote her very first story about a lost hamster. It earned rave reviews from both her teacher and her parents.
It only took her twenty years to start the next one.
It will not be about hamsters.