If you are looking for a light NA romance, you need to pick up Foolproof! I loved Ryan and Jules, they were a flirty couple that were lucky to find one another.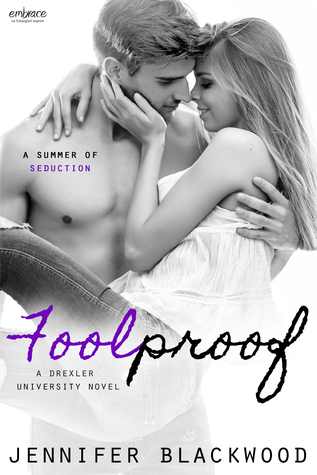 Author: Jennifer Blackwood
Series: Drexler University #2
Genre: NA Contemporary Romance
A summer of seduction...

Jules Carmichael needs to get her life together. Pronto. School's been hell, there was that tiny stint in rehab, and worst of all, she's lost her cushy summer job. The only available work is at Office Jax, home of horrid 90s music and the biggest jerk on this side of the galaxy...

Recovering from a brutal break-up and taking a hiatus from college, Ryan DeShane has just discovered the "6 Ultimate Steps to the Perfect Summer Fling." It's a brilliant distraction, and Jules is a tantalizing target. But the "steps" work a little too well, because he and Jules are definitely, uh, flinging. And it's only a matter of time before Ryan's foolproof plan starts to seriously unravel...
I picked up Foolproof in December last year, and decided to read it because I was after something lighter read. At the time, I didn't realise it was the second book in a series, but because it features a different couple, it can easily be read as a standalone. And what a fun read it was! Ryan following advice about a summer fling from a girls magazine, the flirting at work and the use of 90's songs to get their feelings across! I enjoyed every moment of reading this book!
Jules is working at Office Jax over the summer and is enrolled into medical school. I could see from the first chapter that it may not be a good fit for her, as she fumbles through a co-workers problem. Then in rocks Ryan, the boss's son, who comes across as arrogant and spoiled, but extremely hot! Their working relationship gets off to a rocky start, but after Ryan reads an article, he decides to test out the steps to hook his sassy co-worker, Jules.
I really enjoyed the growing relationship between Jules and Ryan. There was plenty of playful banter between them, the flirting was fun and their attraction to one another continued to grow, and a few times almost went too far. But I could see that they were both struggling about what they wanted for their futures. Jules was able to help Ryan find what he needed, but Jules doesn't want to face her parents in regards to her career decisions, and avoids conflict as much as possible.
This is the first book that I've read by
Jennifer Blackwood, and she did a remarkable job of pulling me into her world. It's told from the first person perspective, alternating between both Jules and Ryan. I was able to see what they were feeling for one another and what decisions they wanted to make for their futures. Jules and Ryan had sizzling chemistry, and were able to let their walls down when they were alone together. I had a smile on my face the whole time I read this book; I'm glad that I've found a new author to stalk!
Here's a swonnworthy moment, but still using a 90's song title to flirt!

Lowering my face within an inch of his, I said, "Hit me with your best shot."
His breath rushed out, a swirl of mint and graham cracker caressing my face. He knocked the cap off my head, grabbing the back of my hair, and pulled me into a kiss.
Our lips met, tongues pushing, fighting for control. My fingers tugged through his curls, our fevered tempo had me fighting for breath as the world around me fell away. He nipped at my bottom lip, and a shudder wracked through my bones. I was lost in his warm lips, his tongue, falling, falling, falling, until I was sure if we stopped I would collide with the ground at earth-shattering speed. His hands cupped my ass, his erection pressing into my stomach, and as I ground my hips into him, he groaned, the sound vibrating against my lips.

Kindle Page 85


Originally inspired by

YA Bound
Jennifer Blackwood

is an English teacher and contemporary romance author. She lives in
Oregon with her husband, son, and poorly behaved black lab puppy. When not chasing after her toddler, you can find her binging on episodes of Gilmore Girls and Supernatural, and locking herself in her office to write.