John Logan was one of my fav's in the first book, so I was eager to jump into read his book! And his story is a bit sad, since he was unable to chase his dreams... But Grace was a great match for him, I tell ya!
Genre: NA Sports Contemporary Romance
Published: May 6th 2015
He's a player in more ways than one…
College junior John Logan can get any girl he wants. For this hockey star, life is a parade of parties and hook-ups, but behind his killer grins and easygoing charm, he hides growing despair about the dead-end road he'll be forced to walk after graduation. A sexy encounter with freshman Grace Ivers is just the distraction he needs, but when a thoughtless mistake pushes her away, Logan plans to spend his final year proving to her that he's worth a second chance.
Now he's going to need to up his game…
After a less than stellar freshman year, Grace is back at Briar University, older, wiser, and so over the arrogant hockey player she nearly handed her V-card to. She's not a charity case, and she's not the quiet butterfly she was when they first hooked up. If Logan expects her to roll over and beg like all his other puck bunnies, he can think again. He wants her back? He'll have to work for it. This time around, she'll be the one in the driver's seat…and she plans on driving him wild.
After I read The Deal I had to dive straight into The Mistake. I fell in love with Garrett by the end of the first book, but it was his friend Logan that captured my heart. After watching his friend fall in love, I could see how much Logan wanted that too.
I loved the easy friendship that Grace developed with Logan. Their first official meeting was by coincidence; they had a few things in common and were comfortable with one another. Their attraction grew and before long they were messing around. But when they came to a crossroad, words were exchanged and egos were bruised and they went their separate ways.
Grace grew throughout the story; she began as the quiet virgin, but after what she went through and some time away, she became more confident and didn't allow Logan back into her life immediately. Logan changed too; he dropped the party boy act, took responsibility for himself and dealt with his feelings towards Grace. His family responsibilities held him back and he's afraid to chase his dreams.
I enjoyed every moment of reading The Mistake; getting to see all the guys again, seeing them on the ice and what they've been up to. The story was light and entertaining and once again Elle Kennedy sucked me into her easy writing style. I enjoy the alternating perspectives, so I could see the struggles both characters were facing. I'm looking forward to The Score and watching party-boy Dean settle down!
Complimentary copy provided for an honest review.
Our innocent girl Grace was getting a hands on introduction to Logan!! Loved this moment!

John Logan is touching my cheek.
The pads of his fingers are calloused, a rough scrape against my skin, and he smells so good I feel light-headed when I inhale the faint scent of his aftershave.
He lightly strokes my cheekbone and I have to stop myself from purring like an affectionstarved cat. "What are you doing?" I whisper.
"Well, you were looking at me like you wanted me to kiss you." His blue eyes become heavy-lidded. "So I was thinking I might do that."

Kindle Arc 350



Hosted by MizB of

A Daily Rhythm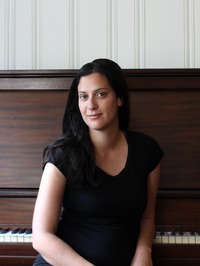 A New York Times, USA Today and Wall Street Journal bestselling
author, Elle Kennedy grew up in the suburbs of Toronto, Ontario, and holds a B.A. in English from York University. From an early age, she knew she wanted to be a writer, and actively began pursuing that dream when she was a teenager.

Elle writes romantic suspense and erotic contemporary romance for various publishers. She loves strong heroines and sexy alpha heroes, and just enough heat and danger to keep things interesting!
Other reviews featuring Elle Kennedy
Off-Campus series
The Deal #1