I love anything that
M. Leighton writes, so of course I want this one.
And I'm a couple of books behind in the BDB series, but I still want the Beast!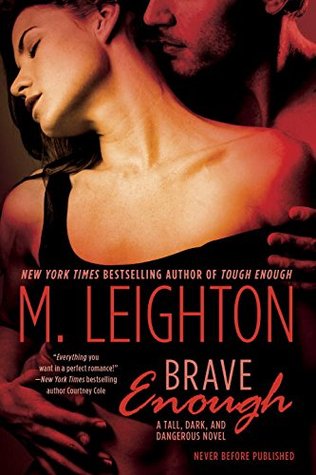 Series: Tall, Dark, and Dangerous #3
Genre: Contemporary Romance
Expected Publication: April 5th 2016
Is she brave enough to give her heart to a man she only thought she knew?

He was the most charismatic man I'd ever met. Strong, tough, brave. Bold as hell. Something told me Tag Barton could have anything—anyone—he wanted...and he wanted me. It didn't matter that he was wrong for me in practically every way possible. It didn't matter that my father would hate it.

I couldn't resist him. Even if I'd known who he really was and what he was really capable of.

When he suggested we pretend to be engaged, I thought he was the answer to all my problems. He wasn't. And, in his wake, he left nothing but scorched earth and me, just another casualty of my father's war.

Can I believe him now when he tells me he loves me? Or is he nothing more than a beautiful, breathtaking lie?
Series: Black Dagger Brotherhood #14
Genre: Paranormal Romance
Expected Publication: April 5th 2016
Rhage and Mary return in a new novel of the Black Dagger Brotherhood, a series "so popular, I don't think there's a reader today who hasn't at least heard of [it]" (USA Today).

Nothing is as it used to be for the Black Dagger Brotherhood. After avoiding war with the Shadows, alliances have shifted and lines have been drawn. The slayers of the Lessening Society are stronger than ever, preying on human weakness to acquire more money, more weapons, more power. But as the Brotherhood readies for an all-out attack on them, one of their own fights a battle within himself…

For Rhage, the Brother with the biggest appetites, but also the biggest heart, life was supposed to be perfect—or at the very least, perfectly enjoyable. Mary, his beloved shellan, is by his side and his King and his brothers are thriving. But Rhage can't understand—or control—the panic and insecurity that plague him…

And that terrifies him—as well as distances him from his mate. After suffering mortal injury in battle, Rhage must reassess his priorities—and the answer, when it comes to him, rocks his world...and Mary's. But Mary is on a journey of her own, one that will either bring them closer together or cause a split that neither will recover from...
Waiting on Wednesday is a weekly meme hosted by Jill @ Breaking the Spine where I have the chance to spotlight upcoming releases that I'm eagerly anticipating.