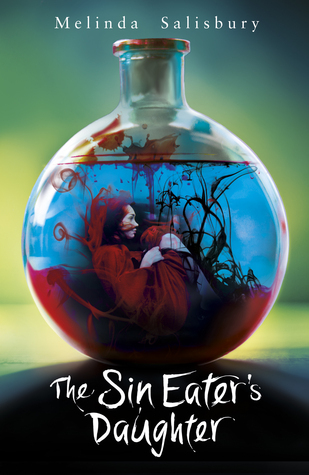 Title: The Sin Eater's Daughter
Author:
Melinda Salisbury
Series: The Sin Eater's Daughter #1
Genre: Young Adult Fantasy
Published: March 1st 2015
I am the perfect weapon.
I kill with a single touch.

Twylla is blessed. The Gods have chosen her to marry a prince, and rule the kingdom. But the favour of the Gods has it's price. A deadly poison infuses her skin. Those who anger the queen must die under Twylla's fatal touch.

Only Lief, an outspoken new guard, can see past Twylla's chilling role to the girls she truly is.

Yet in a court as dangerous and the queen's, some truths should not be told...
Buy Now - Amazon
Firstly, I love the cover to this book! What you can see on it has so much to do with what happens throughout the story; the blood, the vile and the girl in scarlet that feels so alone. It is very clever!!
Then I dived into the book and was swept away in the fantasy world that
Melinda Salisbury
created. I learned all about Twylla, what her life as a Sin Eater would have been like; what her life entails now - being betrothed to the prince and being the Daunen Embodied. There are so many things that she cannot do and she craves human contact. It was a big eye opener as a lot of details were explained, but just enough to keep me wanting to know more.
I liked getting to know both Twylla's guard Leif, and Merek the prince that has just returned from travelling for the past two years. They both have great strengths and I can see goodness in them both. Leif was kind of mysterious but was always there for Twylla, wanting to keep her safe. I liked Merek too, being of royal blood he was able to touch Twylla and those few moments grounded her.
I liked how this story unravelled and it has set the story up for more things to come. Twylla grows a lot as a character and a young woman thoroughout this journey and faces a lot of hard times. The queen is one piece of work and is a ruthless leader. I liked the king, he had a good heart. There are twists along the way that I didn't see coming and I look forward to see what is to come next.
Complimentary copy provided by the Publisher, via Edelweiss in exchange for an honest review.