If you're new to the series, this is the

BEST TIME

to check it out!!!
THE SHADOW PRINCE & MORTAL ENCHANTMENT are currently available for FREE on Amazon from April 24th through April 28th. This will be the ONE AND ONLY TIME, so pick up your copies NOW!!!
Title: The Shadow Prince
Series: Mortal Enchantment #0.5
Every sacrifice has consequences.




Sixteen-year-old Rowan has spent most of his life living among the mortals—learning to control the element of fire, impatiently awaiting the day his vengeful mother, Queen Prisma, will abdicate her throne. When he finally returns to Avalon for his coronation, his mother insists he must first prove his loyalty to the court by completing a secret mission:

Kill Kalin, the half-human, half-elemental daughter of the air court king.




Willing to do anything to remove his mother from power, he agrees to sacrifice the halfling. He returns to the mortal world with his best friend, Marcus, determined to kill the princess. But as he devises a plan, he starts to question whether or not he's capable of completing such a heinous task. And what price he will pay if he refuses?
Title: Mortal Enchantment
Series: Mortal Enchantment #1
In Kalin Matthew's world, elementals control the forces of nature. They are divided into four courts: air, woodland, fire, and water. At sixteen she will leave the life she's built with her mortal mother. Kalin will move to Avalon to rule with her father—the elemental king of the air court. Along the way, she's attacked by a fire court assassin and saved by Rowan, a swoon-worthy elemental with a questionable past.




Worst of all, she learns her father is missing.




To rescue him, Kalin will have to work with a judgmental council and a system of courts too busy accusing each other of deceit to actually be able to help her. But, they aren't her biggest challenge. With the Midwinter's Ball only five days away, Kalin must take over her father's duties, which includes shifting control of the elements—power Kalin has yet to realize.




As Rowan attempts to train her, a war looms between the four courts. If Kalin fails, her father will die and the courts will fall, but the betrayal she's about to uncover may cost her even more...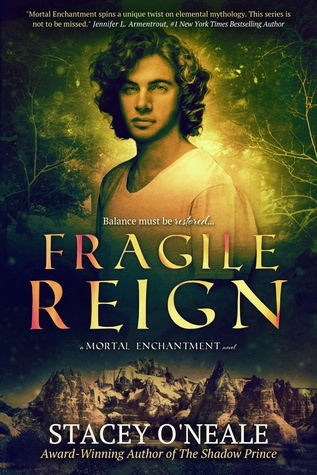 Title: Fragile Reign
Series: Mortal Enchantment #2
It's been a week since all hell broke loose…

Rumors of King Taron's weakened powers have left the air court vulnerable. Kalin is desperate to awaken her akasha powers, except she doesn't know how. Tension within the court is at an all-time high. Pressure is mounting for her to ascend to the throne, but a halfling has never ruled over any court. To solidify her position, the council has advised her to marry Sebastian—a high ranking air elemental she's never met and her betrothed.




Will Kalin sacrifice her relationship with Rowan to strengthen her court?




Rowan and Marcus return to a fire court in turmoil. Liana's death has fueled the fire elementals' distrust against the air and woodland courts. The unbalanced elements have set off natural disasters all over the mortal world. Rowan takes the throne to restore balance, promising to unite the fire court. But not all elementals are happy with his leadership. Many are secretly loyal to Valac, which means Rowan needs to find allies for his cause.




Can Rowan unify the court of fire before the elements destroy the world?
Award-winning author, Stacey O'Neale, lives in Annapolis, Maryland. When she's not writing, she spends her time fangirling over books, blogging, watching fantasy television shows, cheering for the Baltimore Ravens, and hanging out with her husband and daughter.
Her career in publishing started as a blogger-turned-publicist for two successful small publishers. Stacey writes young adult paranormal romance and adult science fiction romance. Her books always include swoon-worthy heroes, snarky heroines, and lots of kissing.
Stacey loves hearing from readers. Follow her on Twitter @StaceyONeale, look for her on Facebook, Pinterest, and GoodReads. You can also visit her blog at
http://staceyoneale.com/
.
a Rafflecopter giveaway