Genre: YA Paranormal Romance
Published: October 18th 2011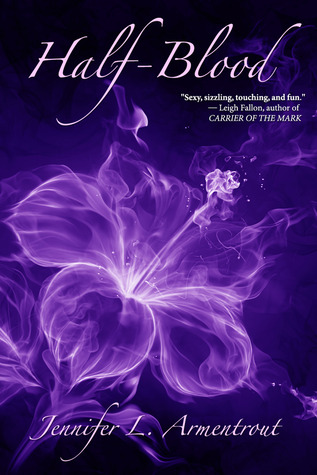 It has taken me a while, but I finally started this series!
"You're so beautiful. So brave, so full of life." He guided my head down and dropped a sweet kiss against the scar on my neck. "You have no idea, do you? You have so much life in you, so much."

I tipped my head and he kissed the tip of my nose. "Really?"

"Yes." He brushed my hair back from my face. "Since the night I saw you in Georgia, you've been under my skin. You got inside me, became a part of me. I can't shake it. It's wrong." He shifted us, rolling me across the bed until he leaned above me. "Agapi mou, I can't…" He bought his lips down to mine once more.
~ Paperback Pages 200-201
Review can be found HERE!!
The Hematoi descend from the unions of gods and mortals, and the children of two Hematoi pure bloods have godlike powers. Children of Hematoi and mortals--well, not so much. Half-bloods only have two options: become trained Sentinels who hunt and kill daimons or become servants in the homes of the pures. Seventeen-year-old Alexandria would rather risk her life fighting than waste it scrubbing toilets, but she may end up slumming it anyway. There are several rules that students at the Covenant must follow. Alex has problems with them all, but especially rule #1:Relationships between pures and halfs are forbidden. Unfortunately, she's crushing hard on the totally hot pure-blood Aiden. But falling for Aiden isn't her biggest problem--staying alive long enough to graduate the Covenant and become a Sentinel is. If she fails in her duty, she faces a future worse than death or slavery: being turned into a daimon, and being hunted by Aiden. And that would kind of suck.
To participate in Teaser Tuesdays just do the following…

• Grab your current read
• Open to a random page
• Share two (2) "teaser" sentences from somewhere on that page
• BE CAREFUL NOT TO INCLUDE SPOILERS! (Make sure that what you share doesn't give too much away! You don't want to ruin the book for others!)
• Share the title & author too, so that other TT participants can add the book to their TBR Lists if they like your teasers!
Do you have a tease this week? Please leave a comment below with your TT link so I can check out yours too!!
Thanks for stopping by and have a great Tuesday!!