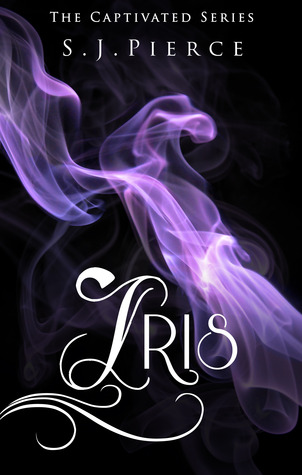 Title: Iris
Genre: YA Paranormal Romance
Published: September 1st 2014
***This book is meant to be read after Captivate Me***

Set before the events in Book One of the Captivated Series, "Iris" explores the depths of family bonds, new bonds, and the lengths a person would go to save the life of a dying sibling. In this novella, get to know Iris and her two sisters more intimately, as well as Gabriel, the first angel-human hybrid who agrees to live under her protection.

Recommended for readers 16 and up due to mature content
I read Captivate earlier this year and when I saw this novella about Iris, I wanted to get to know her and find out what her real motivations were. It turned out to be a great read and really did give me a lot of answers.
Iris is a hard person to crack because of the heartache that she had suffered in the past, but throughout this story her walls began to crumble. It was interesting to see her let someone in who wasn't her family. I met a lot of other characters as well: Iris' sisters Rose and Lilliana, and I also found out how Kai fitted into the whole picture. I expected to meet all these people and not like them as they are evil people, but I found that they weren't that bad and were doing something to keep their family together.
Iris was an enjoyable read and although they are the bad people in the overall storyline, I liked getting to know them better. They weren't as evil as I thought they would be, but they were great characters nonetheless. This story has given greater depth to the whole series. Now that I am done, I am interested to see what will happen with the original characters, Kat and Gabriel.
Complimentary copy provided by the Author in exchange for an honest review.
Susan James Pierce has a degree in Marketing Management, works for a Fortune 500 company in Atlanta, Georgia, and devotes her precious, spare time to writing Fantasy, Paranormal and Sci-fi novels.
Blog l Goodreads l Facebook
$25 Amazon Gift Card
eBook copy of both Captivate Me & Iris
Other Reviews featuring S.J. Pierce