Author:
Nalini Singh
Genre: Contemporary Romance
Published: September 9th 2014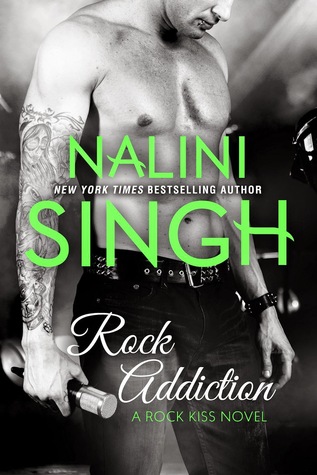 Molly and Fox were a great couple to read about. I loved alot of the secondary characters and I'm keen to read more about them!!
Undoing his seat belt, he reached over to clasp his hand over her nape, kiss her on the lips. A full kiss. A kiss that made her want to play with that ring, suck on his lip, lave her tongue against his, her hands in his hair instead of locked to bone-white tightness on the steering wheel. "I'll be seeing you, Molly Webster," he murmured with a final nibbling taste of her lips.

~ Kindle Arc Loc 434
My review can be found HERE!
New York Times bestselling author Nalini Singh stuns with a sizzling contemporary romance…

A bad boy wrapped in a sexy, muscled, grown-up package might be worth a little risk…

Molly Webster has always followed the rules. After an ugly scandal tore apart her childhood and made her the focus of the media's harsh spotlight, she vowed to live an ordinary life. No fame. No impropriety. No pain. Then she meets Zachary Fox, a tattooed bad boy rocker with a voice like whiskey and sin, and a touch that could become an addiction.

A one-night stand with the hottest rock star on the planet, that's all it was meant to be…

Fox promises scorching heat and dangerous pleasure, coaxing Molly to extend their one-night stand into a one-month fling. After that, he'll be gone forever, his life never again intersecting with her own. Sex and sin and sensual indulgence, all with an expiration date. No ties, no regrets. Too late, Molly realizes it isn't only her body that's become addicted to Fox, but her heart…

From the book you're currently reading, or one you just finished, tell us what made you SWOON. What got your heart pounding, your skin tingling, and your stomach fluttering.

Shout it out on Twitter with the hashtag #YABound, post it here in the comments, or grab the adorable button above and share it on your blog! I want to know & so do the chicks at YABound!
Did you get swooned this week? Please leave a comment below with your Swoon link so I can check out yours too!!
Thanks for stopping by and have a great Thursday!!