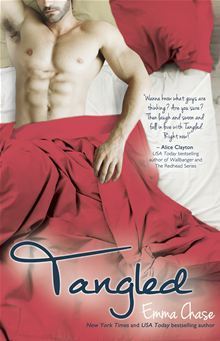 Title: Tangled
Drew Evans is a winner. Handsome and arrogant, he makes multimillion dollar business deals and seduces New York's most beautiful women with just a smile. He has loyal friends and an indulgent family. So why has he been shuttered in his apartment for seven days, miserable and depressed?

He'll tell you he has the flu.

But we all know that's not really true.

Katherine Brooks is brilliant, beautiful and ambitious. She refuses to let anything - or anyone - derail her path to success. When Kate is hired as the new associate at Drew's father's investment banking firm, every aspect of the dashing playboy's life is thrown into a tailspin. The professional competition she brings is unnerving, his attraction to her is distracting, his failure to entice her into his bed is exasperating.

Then, just when Drew is on the cusp of having everything he wants, his overblown confidence threatens to ruin it all. Will he be able untangle his feelings of lust and tenderness, frustration and fulfillment? Will he rise to the most important challenge of his life?

Can Drew Evans win at love?

Tangled is not your mother's romance novel. It is an outrageous, passionate, witty narrative about a man who knows a lot about women…just not as much as he thinks he knows. As he tells his story, Drew learns the one thing he never wanted in life, is the only thing he can't live without.
I read a few reviews about this book when visiting some of my blogger friends and I knew I just had to get it and read all about Drew!! He was such an animated character and I loved reading his story. His inner dialogue had me in stitches at times and I definitely think most men's thoughts are just like his… It was an entertaining read and I found it so hard to put it down!
Drew is a character you could love or hate! He is the spoiled brat of his family, and is used to getting his own way. Don't get me wrong, he worked hard to secure his job in the family business, but the way he grew up definitely influenced him to be the guy he is today. He is confident and sure of himself, but he really doesn't understand relationships or love, so he is quick to make fun of those who are in those situations. Along the way, his competitive side comes out and I knew it was going to be an amusing ride! I laughed, giggled and swooned right until the end!
I loved Kate too! She is a very driven character and there is no way she will let Drew stand in the way of her achieving her goals. She is determined to excel in her new job and I loved how she verbally smacked Drew down! The chemistry between these two is off the charts and I loved the banter between them.
Tangled
captured me from beginning to end; it's a light-hearted read and you will have a smile plastered to your face until that final page! I laughed at Drew's childishness, I cheered him on when he was determined to fight for what he wants and the bedroom scenes are scorching!! I met some amazing secondary characters that influenced both Drew and Kate and I'm eager to grab the next book in the series! If you want a feel good book, you definitely want to pick this one up!
Complimentary copy provided by the Publisher, via NetGalley in exchange for an honest review.