Nuts is the first book in Alice Clayton's new series. The second book, Cream of the Crop is due to release next month, so I thought I would devour Nuts in preparation for it! It was a fun read, I tell you, and I'm excited to read more from this world!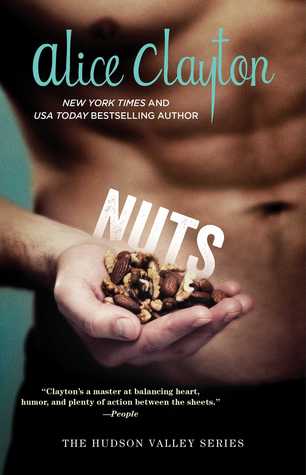 Genre: Contemporary Romance
From New York Times bestselling author Alice Clayton, the first in a brand-new romance series telling the humorously sexy tale of Roxie, a private chef who gets a taste of love—but is it to stay, or to go?

After losing almost all of her clients in one fell swoop following an accident involving whipped cream, private chef to Hollywood's elite Roxie Callahan gets a call from her flighty mother, saying she's needed home in upstate New York to run the family diner. Once she's back in the Hudson Valley, local organic farmer Leo delivers Roxie a lovely bunch of walnuts, and soon sparks—and clothing—begin to fly. Leo believes that everything worth doing is worth doing slowly…and how! But will Roxie stay upstate, or will the lure of West Coast redemption tempt her back to Tinseltown?
A few years ago I read Wallbanger and thoroughly enjoyed
Alice Clayton's
writing. So when I saw her new book Nuts, I knew I had to read it. And it was everything I hoped for; an addictive storyline, well fleshed out characters and the right amount of humour entwined throughout!
Roxie Callahan returned home after her a hiccup with her job and pressure from her mother to fill in at the family café while she was away. She didn't want to return to the small town that she grew up in, but reluctantly packed up her knives and did so. The trip became more appealing after meeting Leo, the hot-as-hell local farmer, and they strike up a summer fling while she's home. But over time, Roxie finds herself changing the menu, taking special orders and even teaching some classes after hours, and realising that her fling maybe more than she wanted!
I really liked Roxie! She was amusing to read about. She had a passion for cooking and put a lot of thought into everything she prepared. I enjoyed the clumsy way that her relationship began with Leo and her quirkiness was something that he liked about her. She was adamant about returning to California at the end of the summer, but the more time she spent there, doing the things she loved, the harder it was to walk away.
If you're a food guru, you would enjoy the focus on food that is written throughout Nuts. Roxie is passionate about cooking and new produce excites her. Alice Clayton described the food that Roxie prepared and I could envision it like I was there. I enjoyed the way the story unfolded and how Roxie grew throughout her trip home. I was introduced to a few characters that I can't wait to see more of and I'm looking forward to continuing this series!
*** Swoon Thursday was first bought to us by YA Bound. Since they are no longer with us, and with permission from Trisha Wolfe, I have decided that those of us that love to swoon need a central meet up point. So here it is ladies! I have a link up for everyone at the bottom of the post you can add your swoons to, and I'll set it up every week! So tell all other swooners out there to come on over, link up so we can visit each other! *** This one made me giggle... because you know she's going to take advantage of that eventually!! lol

"Did I mention how much I like this beard?"
"You haven't, but thanks. I was thinking of shaving it off, though."
"Don't do that yet, there's something I want to try first." I let my hands come up to his beard, roughing it up a bit with my fingertips.
"What might that be?" he asked, scooting the chair back a bit more. I took the opportunity to rise up a bit, throwing one leg over to straddle him.
"I can't tell you. Not yet," I said, feeling my cheeks heat up.
He held my face in his hands. "Look at you blush. I wonder what you're thinking about," he teased, happy.

Paperback Page 124-5


Originally inspired by

YA Bound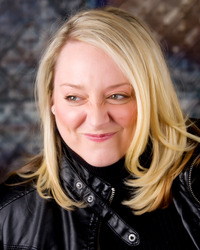 ALICE CLAYTON worked in the cosmetics industry for over
a decade before picking up a pen (read laptop).

She enjoys gardening but not weeding, baking but not cleaning up, and finally convinced her long-time boyfriend to marry her.

Now, about that Bernese Mountain dog
Other reviews featuring
Alice Clayton
Cocktail series
Wallbanger #1