You know I love a good fighting book, but this book had a deeper storyline that hooked me from the beginning. It was sweet to see these friends grow into something more, and having to deal with elements they couldn't control!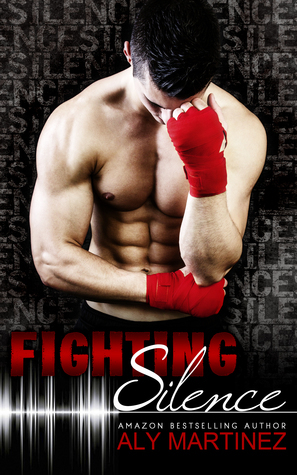 Author: Aly Martinez
Narrator: Laura Jennings
Genre: NA Contemporary Romance
Published: July 7th 2015 by Aly Martinez (first published February 16th 2015)
Sound is an abstract concept for most people. We spend our lives blocking out the static in order to focus on what we believe is important. But what if, when the clarity fades into silence, it's the obscure background noise that you would give anything to hold on to?

I've always been a fighter. With parents who barely managed to stay out of jail and two little brothers who narrowly avoided foster care, I became skilled at dodging the punches life threw at me. Growing up, I didn't have anything I could call my own, but from the moment I met Eliza Reynolds, she was always mine. I became utterly addicted to her and the escape from reality we provided each other. Throughout the years, she had boyfriends and I had girlfriends, but there wasn't a single night that I didn't hear her voice.

You see, meeting the love of my life at age thirteen was never part of my plan. However, neither was gradually going deaf at the age of twenty-one.

They both happened anyway.

Now, I'm on the ropes during the toughest battles of my life.
Fighting for my career.
Fighting the impending silence.
Fighting for her.

Every night, just before falling asleep, she sighs as a final conscious breath leaves her.

I think that's the sound I'll miss the most.

Each book in this series can be read as a standalone.
Fighting Silence
actually took me surprise! Reading the description shows that it was going to be a difficult ride, but I wasn't expecting to be so emotionally attached to these characters as they grew from teenagers into young adults. They faced some difficult hurdles; their parents, raising two children (Till's brothers) and even fighting the feelings they have for one another. It truly was a beautiful read and I'm glad that I took the chance with this book because now I need more from this world.
I enjoyed seeing the relationship develop from the beginning between Till and Eliza. They had their own sanctuary where they met every day that made them feel safe and gave them a break from their difficult lives. It was sweet to see Till make it homelier by adding little touches to improve the condemned room. Every moment they spent together strengthened their relationship and before long they were seeing each other as more as friends.
However, insecurities, secrets and superstitions held them back. I liked seeing Eliza try and break Till down, but he was so afraid to lose what he already had, until it was almost too late. I loved Till's passion and dedication, and how he always put everyone else's happiness before his own, and he was so focused on providing for his family. I liked that he found boxing and it soon became something that he was a natural at and made him a better person.
Eliza had a great relationship with Till's brothers, Flint and Quarry. She helped them whenever they needed it, from homework to cooking. She was good for the Cole family too, she was able be the cool head when needed and supported them through good times and bad. But my favourite moments were when she was Till, fighting for what she wanted and seeing the love they had for one another. They were a sizzling couple and I could feel their connection every time they were together.
I really enjoyed the narration by Laura Jennings too. The book is told mostly from either Till or Eliza's perspectives and she did a fantastic job at portraying them. But it was the remarkable storyline that had me hooked and I've become an instant fan of Aly Martinez's. She created a world with damaged characters that are passionate and were willing to fight for one another. The ending was beautiful, but was left open for more books in the series and I'm excited to read Flint and Quarry's stories!
This was just a sweet moment between Eliza and Till.

"But even if all of that was suddenly gone, I would still be madly in love with you. I wanted to spend forever with you at thirteen. Nothing has or ever will change that. Eliza, I love you. And I am unquestionably serious about spending the rest of my life with you."
They were really good words.
But Till Page was saying them . . . to me.
They were perfect words.

Kindle Page 147



Hosted by Anna @

Herding Cats & Burning Soup



Born and raised in Savannah, Georgia, Aly Martinez
is a stay-at-home mom to four crazy kids under the age of five- including a set of twins. Currently living in South Carolina, she passes what little free time she has reading anything and everything she can get her hands on, preferably with a glass of wine at her side.