I'm so excited to get my hands on Rage's book! She was a quirky character that I met in Soulless and I couldn't wait to see what was going on in that head of hers!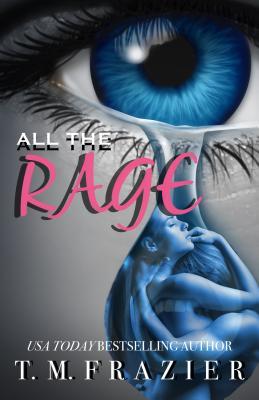 They call me Rage.
My real name is like a shadow, always close behind, but never quite able to catch up.
I fly under the radar because no one ever suspects I'm capable of the kind of brutal violence I commit each and every day.
You see, I'm a girl. I'm nineteen.
And I'm a killer.
This life is all I know. It's all I want to know. It keeps the s**t buried that I need kept buried. It allows me to live without thinking too much.
Without dwelling on the past.
Until him.
It all changes when an ordinary boy becomes my next target.
And my first love.
I have to choose.
The only life I've ever known has to die, or he does.
Either way, I'll be the one pulling the trigger...

All the Rage is a STANDALONE.
Since I binge read the first four books in the King series, I'm going to read anything else that comes from this world. After I met Rage in Soulless, I wanted to know more about her, because that girl is a serious badass!
All the Rage
begins before we met Rage in Soulless and crossed over that timeframe so I found out what happened to her after she left.
The story begins with a young Rage and I could see that she was struggling being different. Her friend Cody was there for her and helped her fly under the radar. But no matter what they did to muffle her anger problem, it still sizzled under the surface. At the age of sixteen, she decided it was time to get away from everything she knew and try to find herself without all the rules. She found herself a mentor – Smoke – and he trained her to be the ruthless killer that I knew her as.
Smoke sent her on a job to look into who she thought was a kid, but turnsed out to be a man who got her blood pumping. Nolan was recovering from an incident, and after a mishap Nolan and Rage spend a lot of time together. But I soon learned that looks can be deceiving as a few twists were revealed and I was beginning to see the bigger picture. It was exciting and the sexual tension between Nolan and Rage continued to grow!
I loved seeing these two together, they both like to control every aspect of their lives and Rage soon realised she had to give up part of her control. Nolan could see past some of her walls and knew exactly what she needed. He wasn't scared by her episodes, if anything they fuelled him on!
But in true T.M. Frazier style, she threw in some twists that had my head exploding! The storyline took an intense turn and I was heartbroken to see what the characters went through. I knew none of them would be the same again. What really surprised me most about the ending, was the change in Rage! I cannot believe what her next adventure is going to be! What I did miss though was the characters I've come to love from the original series. There are tiny glimpses of them, but not enough. The Bonus Scene has me intrigued, and I'm excited to see where things go now for the whole crew… I guess I'll be on edge waiting for the next book from this world!
Complimentary copy provided by the Author in exchange for an honest review.
Today I have two teasers, and they are both from Nolan... he says what he thinks! The second one is a little naughty, so be warned!

"I could have gotten in myself," I told him.
Nolan lowered his voice and leaned in close. "I know you could have, but I didn't want you flashing what's under that little dress to everyone, although I made sure to look." He ran his nose across my jaw. "Those pink panties you're wearing are making me rock fucking hard."



Kindle Arc Loc 1661





"Since you don't seem to feel the same way, let me tell you what's going to happen right now," Nolan started. "I'm going to make you come on my fingers." Step. "On my tongue." Step. "And around my cock." His last step closed the space between us. "We can worry about who gets to kill who after."



Kindle Arc Loc 2693

Hosted by MizB of

A Daily Rhythm
T.M. (Tracey Marie) Frazier resides in sunny Southwest Florida with her husband and three feisty fur kids.
She attended Florida Gulf Coast University where she specialized in public speaking. After years working in real estate and new home construction, she decided it was finally time to stop pushing her dreams to the back burner and pursue writing seriously.
In the third grade she wrote her very first story about a lost hamster. It earned rave reviews from both her teacher and her parents.
It only took her twenty years to start the next one.
It will not be about hamsters.