It has been a long wait for my next
Kylie Scott
book... but
Dirty
is finally here today!! You need to grab it and try her writing for yourself, you won't regret it!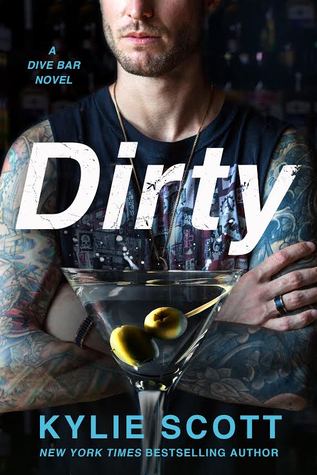 Genre: Contemporary Romance
Published: April 19th 2016
The last thing Vaughan Hewson expects to find when he returns to his childhood home is a broken hearted bride in his shower, let alone the drama and chaos that comes with her.

Lydia Green doesn't know whether to burn down the church or sit and cry in a corner. Discovering the love of your life is having an affair on your wedding day is bad enough. Finding out it's with his best man is another thing all together. She narrowly escapes tying the knot and meets Vaughan only hours later.

Vaughan is the exact opposite of the picture perfect, respected businessman she thought she'd marry. This former musician-turned-bartender is rough around the edges and unsettled. But she already tried Mr. Right and discovered he's all wrong-maybe it's time to give Mr. Right Now a chance.

After all, what's wrong with getting dirty?
Oh, how I have missed
Kylie Scott's
writing! I always have a good time reading her stories, and Dirty was another example of what a fantastic writer she is! She weaves in just the right amount of humour, with easy-to-like characters and builds a storyline that I found myself addicted to. Now I am left hanging because I want more from this world, now!!
Dirty
is told from Lydia's perspective, and right from the first chapter I was thrust into the disaster that her life was turning out to be. I followed Lydia as she tried to escape, not so elegantly! It was amusing to see her get as far away as she could with limited resources. While she was in hiding was when she met Vaughan, who was the bass guitarist for Down Fourth, the warm up band for Stage Dive. After the initial shock they get to know one another, the banter and flirty comments between them made me smile and their connection grew quickly.
What I loved most was that Lydia was not the usual skinny, perfect heroine… nope, this girl had curves, boobs and little skin imperfections that a lot of people and readers can relate to. Vaughan made her feel beautiful, and she began to feel more confident about her body and what she wanted to achieve for herself. She didn't want to be walked over or used again and I loved that change in her.
I loved seeing the romance develop between Lydia and Vaughan; they were comfortable with one another and easily opened up about their feelings, their dreams and their failures. Vaughan introduced Lydia to his sister and some friends that he grew up with, and I cannot wait to see more of them. They had their own drama's which are going to be entertaining stories! There was even a cameo from one of my favourite characters!! If you haven't read anything from Kylie Scott before, you can start right here and become hooked like ME!!
Complimentary copy provided by the Publisher, via NetGalley in exchange for an honest review.
This tease made me giggle... I'm sure this happens to all of us at some point!!

My hand somehow managed to curve over his ass as he turned away. There may have been a subtle squeeze involved. Like a girl could always be held responsible for what her fingers did. Please.
"I felt that."
"I don't know what you're talking about."

Kindle Arc Loc 2159



Hosted by MizB of

A Daily Rhythm
Kylie is a New York Times and USA Today best-selling author. She was
voted Australian Romance Writer of the year, 2013, by the Australian Romance Writer's Association and her books have been translated into six different languages. She is a long time fan of romance, rock music, and B-grade horror films. Based in Queensland, Australia with her two children and husband, she reads, writes and never dithers around on the internet.

Contact her at kylie@kylie-scott.com
Other reviews featuring Kylie Scott