Shellee Roberts' debut novel will be released on the 18th and I quite enjoyed the beginning to
Mariely and Cabot's story. What started as a relationship of convenience turns into something more!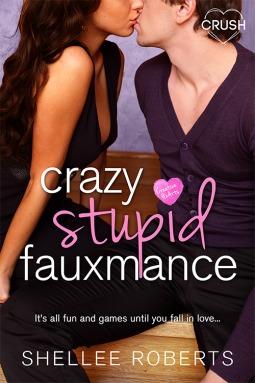 Title: Crazy, Stupid, Fauxmance
Series: Creative HeArts #3, Mariely and Cabot #1
Genre: YA Contemporary Romance
Published: April 18th 2016
After Mariely Hinojosa and Cabot Wheeler both break up with their significant others at the same party, Mariely sees a way to get even with both of their exes. Everyone knows that the best way to get over a breakup is a hookup—a fake hookup, that is. Three weeks, all fun, no strings, and definitely no heartbreak at the end.

But somewhere between the sweet hand-holding and melt-your-mind kisses, their fake relationship starts to feel less like an act and more like the real thing...but Mariely's a free-spirited girl from the other side of the tracks, and Cabot's the hot trust-fund guy from the Hills.

They'd never work for real...

Mariely and Cabot Book 1 of 3
Mariely and Cabot Book 2 coming Winter 2017
Crazy, Stupid, Fauxmance
is the first book in Mariely and Cabot's story. It took me back to high school and the people and politics that we all dealt with at some time or another. It was a sweet developing romance read, and in the end I was left wanting more!
Mariely and Cabot both broke up with their partners at a party hosted at Cabot's house. They were both very public break up's and they were the talk of the school. When Mariely finds a way to get past the issue by suggesting a fake hook up with Cabot, and invites him to the upcoming dance, he accepts and soon they are spending time together whenever possible.
It was cute to see the relationship develop between Mariely and Cabot; they were both nice people and had a lot in common. Being from different worlds was a bit of a hurdle, but slowly they moved past it. I liked that they took the time to get to know one another, and didn't really care about what other's thought as their relationship slowly grew into something more. There were a few hurdles along the way and their relationships with their ex's were strained.
This is the first book that I've read by Shellee Roberts. I enjoyed getting Mariely's perspective, from first person pov. Occasionally, I would get Cabot's perspective, but it was from third person point of view. I think I would've enjoyed the story more if the whole story was from the one writing style. The book ended quite abruptly, but it's the first book in a trilogy I believe, so I may have to pick up the next book to see what happens from here.
Complimentary copy provided by the Publisher, via NetGalley in exchange for an honest review.
*** Swoon Thursday was first bought to us by YA Bound. Since they are no longer with us, and with permission from Trisha Wolfe, I have decided that those of us that love to swoon need a central meet up point. So here it is ladies! I have a link up for everyone at the bottom of the post you can add your swoons to, and I'll set it up every week! So tell all other swooners out there to come on over, link up so we can visit each other! *** This was a sweet kiss.. these two trying to fight their attraction and finally giving in!

Cabot's lips brush mine, so softly at first, I'm not sure he's going to actually kiss me. But then he nudges open my mouth with his and I feel my resolve to stay calm melting away as I melt into Cabot. My heart skips over leaping, right into chest pounding, and my hands come up to rest on his hips. I don't know if it's to hold myself up, or hold him closer, or both. The kiss goes on and on and I think I could stay like this forever…
When Cabot's lips leave mine, I open my eyes to find myself again staring into those dark, tempting pools. "Is that what you had in mind?" He sounds like he's having a hard time catching his breath.
No, that was nothing like I had in mind, but everything I asked for just the same. "I'm pretty sure that did the trick."

Kindle Arc Loc 1464


Originally inspired by

YA Bound
Though I'd always daydreamed otherwise, I live a pretty ordinary life. I
was born, raised and still live with my own family in Austin, Texas (a.k.a. the awesomest city in the world). At various times I wanted to be a pharmacist, an IT mega-gazillionaire, a civil rights lawyer, and a diplomat, but ended up working a regular 9-to-5 instead. An avid reader, I began writing stories as a creative outlet and discovered my passion for storytelling. I still have a day job (a girl's gotta buy books), but I spend my nights tapping away on the keyboard.