Right, Jana Aston's second novel, was released this week. I have been excited to read more of Jana's work after reading her debut novel, Wrong, last year. I've really enjoyed her writing style, you need to pick her work up for yourself!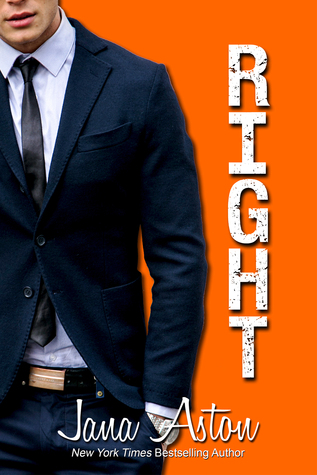 Author: Jana Aston
Series: Wrong #2
Published: April 6th 2016
Buy Now -
Amazon
My childhood was perfect.
I've led a charmed life, and I'm not going to blow it now
by picking the wrong guy.

I've got my sights set on my brother's best friend.
He's known my family for years. He's reliable and kind and handsome.

Sure, he's been avoiding me since I was six.
I'm a bit aggressive for him, maybe.

But he's the one… right?
After reading Jana Aston's debut novel I knew I had to read more of her work. I enjoy comedy romances and when I picked up Right I was in the mood for something fun and I thoroughly enjoyed it! Everly was a quirky character with a plan, and it was funny to see it all go up in flames once she met Sawyer!

Getting to know Everly through a few important times in her early life showed me how determined she was to have Finn in her life. A lot of her decisions were Finn-based and she was adamant that he was the one. Some things she did were full on stalkerish and made me laugh at the extremes she went to. She was not ready for Sawyer to come in and change everything that she had worked for, even though they had instant chemistry.

I loved how controlling Sawyer was! Everly was used to chasing the guy and wasn't sure how to deal with Sawyer. He did everything he could to sweep her off her feet, and made it clear that he wanted her. When they finally got together, it was hot and those two couldn't get enough of one another. Everly never held back and you never knew what she was going to do or say next and Sawyer loved that about her.

This was a fantastic follow up to Jana's first book, and honestly, I think it is my favourite so far! I loved the banter between the characters and their chemistry was amazing, considering how quickly they got together. They faced some hard times, but were stronger in the end. I loved seeing Sophie and Luke again too, and hope to get Chloe's story next!

Right was a playful and entertaining read, with two dominating characters, one not looking for love and the other looking in the wrong place, but in the end were right together.
Jana Aston works a really boring day job. Really. Boring. In her spare time she loves to read sexy romance novels, especially if they involve an alpha CEO. Wrong is her first novel.
Other reviews featuring
Jana Aston
Wrong