This was a fantastic sequel to Lawless... I just loved the twists and how it all wrapped up! I am desperate to get more from this world!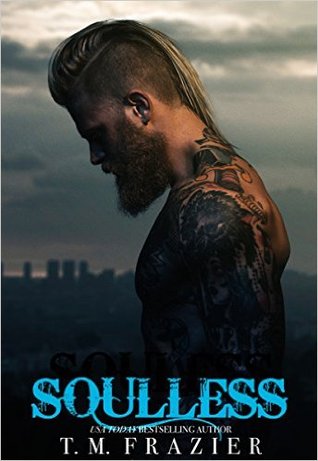 The finale to Bear and Thia's epic love story.
After reading Lawless, I took a little time to pick up Soulless, because I was trying to stretch out my anticipation just a little bit! In the end I couldn't wait any longer and devoured in quickly! It had everything I hoped; intense passion, freakish twists, and jaw dropping moments. By the time I finished the book I was cursing T.M. Frazier… because that ending – dayum – I want more from this world now!!
Lawless
was one helluva ride and it continued into Soulless, but with Bear and Thia being apart. They both are doing everything they can to move forward, but Thia is desperate to hear from Bear. When they are finally reunited, it wasn't under the circumstances they thought it would be but are soon thriving between the sheets once again. However, Chop still needs to be dealt with and Bear is determined to bring the Beach Bastards down.
I just love Bear and Thia together; they've had a strong connection since they first met and now they are back together it continues to strengthen. Bear is very protective of Thia and hates that he can't be with her at all times and does his best to keep her safe. There are a few twists that were revealed that had made me gasp, and then think I knew it! I could see there was way more to the story!
We were introduced to a new character, Rage, who exploded onto the scene and left me wanting to know more about her. She is a fierce girl who is great at her job and just the person Thia needed while she was going through a hard time. I loved seeing King and Rae too, they are very loyal to Bear and will do anything in his time of need.
T.M. Frazier has a way of pulling a reader into her twisted and dark world that makes you want to stay. I love the suspense, the turmoil and emotion she weaves through the story and I cannot get enough. I still need to read Abby and Jake's books… but as I write this review, I see that All the Rage will be out in May… happy birthday to me!!
*** Swoon Thursday was first bought to us by YA Bound. Since they are no longer with us, and with permission from Trisha Wolfe, I have decided that those of us that love to swoon need a central meet up point. So here it is ladies! I have a link up for everyone at the bottom of the post you can add your swoons to, and I'll set it up every week! So tell all other swooners out there to come on over, link up so we can visit each other! *** * Sigh * Bear sure knows how to pour his heart out when he needs to

"Home?" he asked, pounding on his chest with his fist. "This," he said. "This is your home." He lifted my hands by my wrists and pressed my open palms to his chest. "This is your home."
I felt a tear spill out of the corner of my eye and roll down my cheek before I could stop it.
"I'm your home baby, just like you're mine, and if you want brutal honesty like you say you do, then I'll tell you right now that even if you wanted to leave, I wouldn't let you. You're mine now, so unfortunately for you, it's not an option," Bear growled.

Kindle Arc Loc 3169


Originally inspired by

YA Bound
T.M. (Tracey Marie) Frazier resides in sunny Southwest Florida with her husband and three feisty fur kids.
She attended Florida Gulf Coast University where she specialized in public speaking. After years working in real estate and new home construction, she decided it was finally time to stop pushing her dreams to the back burner and pursue writing seriously.
In the third grade she wrote her very first story about a lost hamster. It earned rave reviews from both her teacher and her parents.
It only took her twenty years to start the next one.
It will not be about hamsters.