It's been a little while since I read the 6th book, but I thought it was time to get back into Joanne's world. This was quite the journey... so much happened and I loved the action!
Series: Weather Warden #7
Published: June 13th 2011 (first published August 1st 2008)
Never off duty, that was me. Joanne Baldwin: Weather Warden – if a world-ending storm blew up without notice, I was the go-to girl.

When Joanne's Djinn lover, David, asks Joanne to marry him, she's thrilled to say yes, but there are certain parties – some human, some otherwise – who are less than enthusiastic.

Joanne's premarital bliss ends when a devastating earthquake hits Florida. And this time she won't be able to ask David and his kind for assistance. The cause of the quake is unlike anything Joanne has ever encountered – and it is fuelled by a power even the Djinn cannot perceive.
This series has been one hell of a ride, so I new Gale Force was going to be just as entertaining. Joanne seems to always find herself in the middle of trouble, so what could go wrong planning a wedding... right?
There was so much action in this instalment, because there are people that don't want Joanne and David to marry, so every time she tried to plan something the world would come down around her. David would help her when he could, but he had his own issues to deal with as well.
The series arc kept developing, and I could see that big things were coming on the horizon. There were still issues between the Djinn and the Wardens, but nothing broke my heart more than the betrayal from someone close to Joanne. It was interesting to see an old enemy return as it certainly changed things in the game.
I really did enjoy this read, but like other readers, I was confused with how the story seemed to have changed since the end of the previous book. Nevertheless, I still enjoyed the read and I'm looking forward to picking up the next book to see where things head for all characters next!
I just love the passion from David!
The second tease has a little bit of humour...

'Because he saw what I saw. He saw your strength, your power, your beauty.' David paused, studying me with an expression so tender that it melted my heart and gave me shivers. 'He saw what I saw in your core, and it shook him. It shook all of them. You have a peculiar gift to make Djinn feel. In a way, that makes you more dangerous than anyone they've ever known.'

Kindle Loc 2026

'Right,' I said, and turned to David. 'How do you feel about getting married tomorrow?'
I had no idea Djinn could look so blank. Venna turned to David and said, with the perfect blend of alarm and puzzlement, 'Are you sure she isn't insane?'
David continued with the blank look for a few more seconds, and then the light dawned warm in his eyes, and he slowly smiled.
'Actually,' he said, 'I'm fairly certain she is, and that is exactly why I'm marrying her.'

Kindle Loc 2910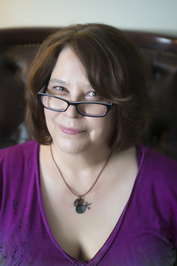 Rachel Caine is the NYT, USA Today, and #1 WSJ
bestselling author of more than 50 books in several categories and genres, including adult thriller and adult urban fantasy/SF as well as books for young adults ages twelve to eighteen.

She is the winner of several national awards, and most recently was a finalist in both the International Thriller Writers awards and the Killer Nashville awards for her debut thriller novel Stillhouse Lake.
Other reviews featuring
Rachel Caine
Weather Warden series
Ill Wind
#1
Heat Stroke #2
Chill Factor #3
Windfall #4
Firestorm #5
Thin Air #6