A few years ago an overseas books friend sent me this book. I have spent a little time collecting the next few in the series as I knew that I would enjoy it and would want to read more... Thank you Chanzie! You are amazing and I thoroughly enjoyed Ill Wind!
Series: Weather Warden #1
Published: April 28th 2008
Some Weather Wardens control fire, others control earth, water, or wind – and the most powerful can control more than one element. Without Wardens, Mother Nature would wipe humanity off the face of the earth…

Joanne Baldwin is a Weather Warden. Usually, all it takes is a wave of her hand to tame the most violent weather. But now Joanne is trying to outrun another kind of storm: accusations of corruption and murder. So she's resorting to the very human tactic of running for her life.

Her only hope is Lewis, the most powerful Warden. Unfortunately, he's also on the run having stolen not one but three bottles of Djinn – making him the most wanted man on earth. Still, Joanne and her classic Mustang are racing hard to find him – because there's some bad weather closing in fast…
I was so excited to get into
Ill Wind
, because I was honestly looking for a good urban fantasy and really, the books I've read lately have been
just
ok. I needed something with a good storyline that would leave me thinking about it while I wasn't reading, and always excited to come back to it.
Ill Wind
certainly delivered and I cannot wait to read more.
Joanna was in a pickle right from the opening chapters. I soon realised she trusted the wrong person and was willing to succeed, which lead her to the situation that she was in. She was willing to do anything to get out of this mess and was looking for an old friend to help her. I enjoyed getting a lot of the back story through Joanne as she travelled across multiple states. She ran into some trouble on her journey and always managed to get her way out.
I loved Joanne's sense of humour, and her fashion sense was unique and hilarious! She tackled everything as best as she could and really took in her surroundings. I enjoyed the weather element that she manipulated and how the other wardens were able to control different elements as well. Then there is David... SWOON! It was interesting seeing him come into Joanne's life and the impact he had on her and how the story unfolded.
Honestly, this is the first Rachel Caine book I have read, and I am kicking myself that it has taken me so long. I enjoyed the way that she slowly created and built up the world, and the introduction of characters had me intrigued. I am really looking forward to picking up the next book!
I just loved seeing Jo and David together, there was always good banter!!

'You were going to let me crash and burn.' I made it a statement. 'Why save me?'
'I liked the way you looked,' he said. 'I saw you at the diner, when the lightning came for you. You could have run back inside. Why'd you get in the car?'
'You're kidding, right? There were all those—'
'People,' he finished for me. 'You didn't want to put them in danger. I told you. I liked the way you looked.'
'In Oversight.' He didn't confirm or deny. 'I didn't see you in Oversight, and I was looking.'
'We've had this conversation. You can't see me when I don't want you to.' He flickered, suddenly, like a failing TV picture, blinking in and out in strobe patterns. I almost ran the SUV off the road. 'Sorry. Just a demonstration.'
'This morning at the motel – you didn't leave. You were just—' Hiding. I had another thought. 'You watched me! You watched me change clothes!'
He closed his eyes and made himself comfortable. The smile on his face made me smack him on the shoulder. Hard.
'Hey! I'm talking to you!' I said. He didn't move, just sat there, relaxed and limp, eyes still closed. 'Right. As if Djinn nap.'
'We do.' He did sound tired. 'And I'm going to.'
'Whatever.'
'Fine.'

Paperback Page 201-2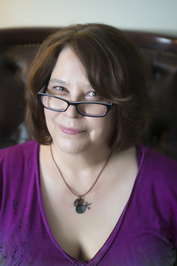 Rachel Caine is the NYT, USA Today, and #1 WSJ bestselling author of
more than 50 books in several categories and genres, including adult thriller and adult urban fantasy/SF as well as books for young adults ages twelve to eighteen.

She is the winner of several national awards, and most recently was a finalist in both the International Thriller Writers awards and the Killer Nashville awards for her debut thriller novel Stillhouse Lake.