I am on a bit of a roll now... I've found a new series and I want to devour! Jo and David have great paasion and banter, and there are always selfish people that want all the power!!
Series: Weather Warden #2
Published: March 8th 2004
The Wardens Association continues to protect the human race from extermination by climatic extremes. That is, when they're not turning on their own…

Joanne's survived one challenge – technically – but now she's got a whole new set of problems. After being accused of murder and chased across the county – and killed – by a team charged with hunting down rogue Wardens, Joanne's human life is over. Reborn into Djinnhood, she has to master her enhanced powers whilst trying to avoid being 'claimed' by a human. With the help of a hot supernatural lover, things are looking bright – until they go wrong. There's trouble brewing, and it's not confined to River City…or to the Wardens. No, this trouble could kill every Djinn on the planet – and unleash a storm that could send humanity to join them.

Armed with keen fashion sense, lime-green Manolo Blahniks and a really fast car, Joanne prepares to do battle with the enemy.

Just one problem...it may be herself.
After reading the first book, Ill Wind, you bet that I was going to dive into the next book immediately! I was so hooked by the end of that book that I needed to see what happened next. Heat Stroke was definitely more exciting right from the beginning as Jo started her new life as a Djinn.
I liked that David and Jo's relationship continued to grow, although she didn't fully understand how she came to be. As the story unfolded I was able to see the full picture to David's actions. I liked meeting new characters and villains that I loved to hate!
Although Joanna was no longer in the Weather Warden world anymore, I could see that she was missing it. She would meddle even though she wasn't supposed to, and events would drag her back into it. I liked seeing Jo as a Djinn, and seeing her learn her powers, and when she was claimed, it certainly made it interesting!!
There were a few twists thrown into this one and I loved every second! Rachel Caine wove the tale perfectly and I cannot wait for more. It was intense, exciting with plenty of action that is going to continue into the next book! As you can tell, I am excited!
This was Jo's first introduction to Jonathon. Although it was tense at first, there were some amusing parts.

'So what you're talking about, when you say you want to fix him, is that you want to kill me.'
Silence, from both quarters. Jonathan didn't deny it.
'Wouldn't advise you to try. I may not look it, but I'm pretty tough to kill,' I said. 'You can ask around. How many people you know survived having two Demon Marks?'
Jonathan half turned and gave me a sarcastic, one-sided smile. 'Half a Djinn, and she's already giving me grief. Must be your influence.'
'Not my fault. Like this when I met her.' David's smile was delighted, warm, proud. 'You'll like her, Jonathan. Trust me.'

Kindle Page 77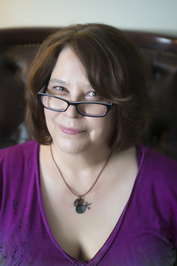 Rachel Caine is the NYT, USA Today, and #1 WSJ bestselling author of
more than 50 books in several categories and genres, including adult thriller and adult urban fantasy/SF as well as books for young adults ages twelve to eighteen.

She is the winner of several national awards, and most recently was a finalist in both the International Thriller Writers awards and the Killer Nashville awards for her debut thriller novel Stillhouse Lake.
Other reviews featuring
Rachel Caine
Weather Warden series
Ill Wind #1