I'm telling you I have found a new favourite Urban Fantasy! I'm quite enjoying following Joanne and seeing the trouble that she lands herself in. Danger is basically her middle name!
Series: Weather Warden #3
Published: January 4th 2005
Weather Warden extraordinaire Joanne Baldwin, who protects the human race from monster storms, was killed, reborn as a Djinn, and then restored to her original form. She's been through a lot – and stuck her neck out many times – to save innocent lives. Now she's rolling the dice to stop an infinitely powerful, deeply disturbed kid from destroying the world…

A teenager has holed up in style at a Las Vegas hotel with the most powerful Djinn in the world, planning who knows what kind of mischief. The Wardens' senior leadership is dead, Djinn are disappearing, and a secret society wants to help Joanne destroy the teenager, even if doing so kills her again. But everybody in Vegas has a game going, and Joanne has to learn the rules fast because the stakes have never been higher – and all hell is about to break loose…
Since picking up the first book in this series, I've been reading them back-to-back, and as the thread in Heat Stroke continued on into Chill Factor, you know I had to pick it up and follow on. This read gave us some more insight into Joanne's past and what she had already endured being a Warden. It also showed us how tough she was as she lived through some tough situations and suffered so much loss.

I really love how tough Joanne was. She was willing to face every challenge that was thrown at her. She thinks outside the box and works so well under pressure! And I do love a girl with impecible dress sense ;) I also liked that she was willing to save a boys life, despite the trouble that he had caused. He was rebelling after his unpleasant life, but unfortunately his Djinn wasn't 100% cooperative! Joanne knows how to manipulate people and situations and she sure had her work cut out for her through this read.

We were also introduced to some new people: the Ma'at. They have a different look on the Warden's and how they use the Djinn. I am looking forward to see how they all play out together in further books in the series.

As I expected Chill Factor was action packed from start to finish. There were a lot of twists and turns, as well as moments that will carry into the next book. I thoroughly enjoy Rachel Caine's writing style, and the way she is fleshing out her characters even more.
This snippet is a good insight into Joanne, her wittiness and her work.

Someone stepped into my path, small and neatly suited in hand-tailored excellence. Holding a silver handed black cane, in the best tradition of his generation. Charles Ashworth II had a kind of grave dignity that wasn't affected by the wind swirling around him.
'Desist,' he said to me.
'Bite me, Grandpa,' I said, and kept walking. I let the wind become a gale, knocking people down, drawing shrieks of alarm from clerks and tourists. I targeted Quinn and knocked him flat, then pinned security against the walls. Sent a gust straight for Ashworth.
It didn't so much as ruffle his silver hair.
'Don't be stupid,' he said. 'You can't hurt me.'
'News flash, Chuck, I'm not going to sit still and get fried like your chicken dinner this time.' I readied my own lightning, well aware that it was destabilising the currents inside the hotel, that it was spreading out in a dark wave of imbalance over the aetheric. 'Get out of the way or I'll return the favour.'
He gestured with his cane, pointing behind me, and I felt a presence taking form up on the aetheric. 'I warn you, we will stop you. And we won't be gentle.'
A Djinn. Bingo. Plan B had actually yielded a decent outcome, for once.

Paperback Page 217-8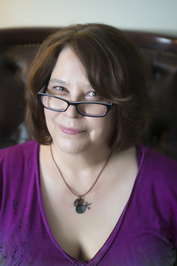 Rachel Caine is the NYT, USA Today, and #1 WSJ
bestselling author of more than 50 books in several categories and genres, including adult thriller and adult urban fantasy/SF as well as books for young adults ages twelve to eighteen.

She is the winner of several national awards, and most recently was a finalist in both the International Thriller Writers awards and the Killer Nashville awards for her debut thriller novel Stillhouse Lake.
Other reviews featuring
Rachel Caine
Weather Warden series
Ill Wind
#1
Heat Stroke #2