Cream of the Crop, the second book in the
Hudson Valley series releases today. This was such a fun read and I
loved
seeing Natalie and Oscar together. Natalie was such an easy character to relate to, and we all seem to get a little speechless about the guy that is "the one"!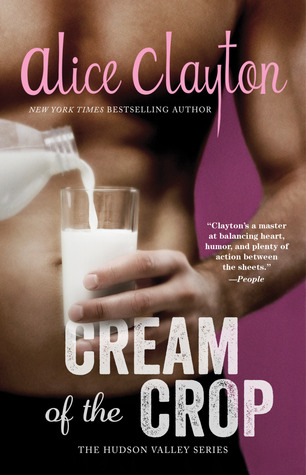 Author: Alice Clayton
Genre: Contemporary Romance
Published: July 12th 2016
New York Times and USA TODAY bestselling author Alice Clayton brings her trademark blend of funny and sexy to this second contemporary romance in the brand-new Hudson Valley series!

Manhattan's It Girl, Natalie Grayson, has it all: she's a hot exec at a leading advertising firm, known industry-wide for her challenging and edgy campaigns. She's got a large circle of friends, a family that loves her dearly, and her dance card is always full with handsome eligible bachelors. What else could a modern gal-about-town wish for? The answer, of course, is...cheese.

Natalie's favorite part of each week is spending Saturday morning at the Union Square Farmer's Market, where she indulges her love of all things triple cream. Her favorite booth also indulges her love of all things handsome. Oscar Mendoza, owner of the Bailey Falls Creamery and purveyor of the finest artisanal cheeses the Hudson Valley has to offer, is tall, dark, mysterious, and a bit oblivious. Or so she thinks. But that doesn't stop Natalie from fantasizing about the size of his, ahem, milk can.

Romance is churning, passion is burning, and something incredible is rising to the top. Could it be...love?
I read Nuts earlier this year and quite enjoyed it, so I knew I had to read the next book in the Hudson Valley series, Cream of the Crop. I have to say I loved Natalie! She's my kind of girl! I loved that she wasn't perfect; she had curves and she owned them. She was confident and knew that she could land any guy she wanted. But when it came to Oscar, the owner of the Bailey Falls Creamery, she shut down completely... and it was amusing to see her fumble around him.
I soon learned that she wasn't always that way. She had a past that wasn't perfect, but she was able to get past it and become a better person because of it. She was a girl who loved living in the big city, but had a dream about being in the country. When she had the opportunity to go to Bailey Falls for work she snapped it up, so she could spend time with her BFF Roxie, and to hopefully bump into Oscar.
Seeing both Natalie and Oscar together was entertaining as well. They both struggled in one another's presence, but the chemistry between them was off the charts! They were passionate and hot, and could not get enough of one another. However they both had baggage from their pasts that came between them and they doubted the connection they had.
Cream of the Crop is my favourite book from the series so far. I could relate to Natalie and found her highly amusing. I loved the way she reacted around Oscar and how good they were together. I loved the writing style and the humour that Alice Clayton entwines throughout her stories! I am looking forward to meeting Clara and how she will affect the small town of Hudson Valley too!
Complimentary copy provided by the Publisher, via NetGalley in exchange for an honest review.
Hehehe... these two were so fun together! I loved the sexy banter between them!

"Those naked very good times you mentioned?"
I dropped a kiss on his thumb. "Mm-hmm?"
His eyes raked over me, thrilling every inch. When those eyes focused once more on mine, I was on fire. "I'm in."

Kindle Arc Loc 1206

"I'd say it's a great night out on the town."
"How about a great night out in my barn? Maybe even out on the hood of my truck?" Oscar whispered, running his fingers right where the garters were on my thighs.

Kindle Arc Loc 2619



Hosted by MizB of

A Daily Rhythm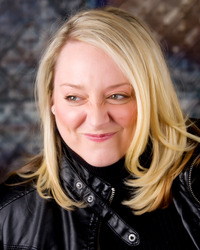 ALICE CLAYTON worked in the cosmetics industry for over
a decade before picking up a pen (read laptop).

She enjoys gardening but not weeding, baking but not cleaning up, and finally convinced her long-time boyfriend to marry her.

Now, about that Bernese Mountain dog
Other reviews featuring
Alice Clayton