I finally squeezed in time to read the third book in the
Enthrall Sessions series! I have really enjoyed the series so far and was torn heading into
Enthrall Him. I am so glad things ended like they did!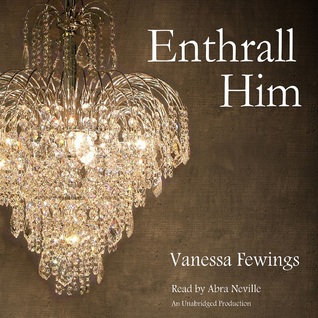 Series: Enthrall Sessions #3
This is the reward of the forbidden. This is the ecstasy of Enthrall.

Billionaire Cameron Cole is the one in control. He makes the decisions of both pleasures and punishments. He is the ultimate master.

Owner of L.A.'s preeminent BDSM clubs, Cameron has yet to relinquish the all encompassing control of his submissive, twenty-one year old Mia Lauren.

Mia's training unlocks a maelstrom of passion. A powerful connection. An unpredictable result. Her uninhibited journey intensifies by the day, but there are new complications on the horizon.

A powerful rival of Cameron's has emerged with a relentless desire to make Mia his own. Lance Merrill has the means and the will to take what he believes is his and bring down an empire in the process.

Mia is taken by Cameron to London for her protection. Her obedience will be tested in ways she could not have foreseen. Richard Sheppard, her former master, has decided it's time to take her back. Will Cameron give her over?

Or will the choice be hers?

In the rousing third novel of the renowned Enthrall Sessions, author Vanessa Fewings guides her readers through the uncharted territories of raw passion into the most heated corners of the human heart.

This is true obsession. This is the time for Mia to Enthrall Him.
It's been a couple of months since I listened to the first two books in the Enthrall Sessions series, but I was so excited to get back into this world again to see what happened to Cameron, Richard and Mia. I must say, I think this was my favourite book in the series! There were some sweet moments, they faced some hard decisions and sacrifices were made for happiness.
Enthrall Him
begins with Cameron taking Mia to London while Richard deals with the threats from Lance. It was interesting to see Cameron and Mia in a different city, one that Mia has longed to visit. Whilst they are there, they are supposed to be continuing with Mia's training while waiting for Richard to arrive. I enjoyed going with Mia as she took in the sights of London and she learned more about Cameron.
The relationships between Mia and her men went in different directions throughout Enthrall Him. One became stronger, where the other confused her, however she didn't like to hurt either of them. She was a sweet girl who only wanted to keep the peace, but she still required time to spend with both Cameron and Richard.
I loved how Mia still interferes in all their lives!! She pushes Cameron too far most of the time to get him to open up. Richard has withheld information from her and she confronted him about it. She supported her friend Bailey and partner Tara with the decisions they made. And she even went out of her way to see someone that she has heard about but never met. She has a kind heart and is willing to help anyone close to her.
Once again I enjoyed the narration by Abra Neville. However, it was the storyline that had me hooked! There were hot and sexy moments, but the intensity and the suspense in this story is what had me listening for long periods of time.
Vanessa Fewings
has quickly become a must read author for me and I am looking forward to listening to more stories from this world!
I have a scene that I loved from this book and here are a couple of teasers from that moment!

"Whoa." He laughed, his arms flailing for balance, his legs giving way as he tipped and slammed flat on his back.
I collapsed on his chest, giggling.
"Are you okay?" I said breathlessly.
"Now I am." He cupped my face with his hands and kissed me, crushing his lips against mine, his tongue searching my mouth, forcing mine wider. His kiss alighted every sense, every cell, until all I knew was him.

... and then ...

"lt's probably a good thing you're not mine," he said.
"Why?"
''I'd possess you beyond all understanding."
I sagged against him, resting my head on his chest.
"You will never submit to any man the way you submit to me." His tone was firm and masterful.
I raised my head to look at him. "No, I won't."

Paperback Page 173
(Not sure of Audio page.)



Hosted by MizB of

A Daily Rhythm
Vanessa Fewings is the bestselling romance author of the
highly
acclaimed Enthrall Sessions.

Vanessa is also the author of The Stone Masters Vampire Series. Prior to publishing, Vanessa worked as a registered nurse and midwife. She holds a Masters Degree in Psychology. She has traveled extensively throughout the world and has lived in Germany, Hong Kong, and Cyprus.

Born and raised in England, Vanessa now proudly calls herself an American and resides in California with her husband.