Into the Blue releases today and I cannot wait for you all to get into the amazing world that Chanel Cleeton creates! This is a beautiful series, and I need more!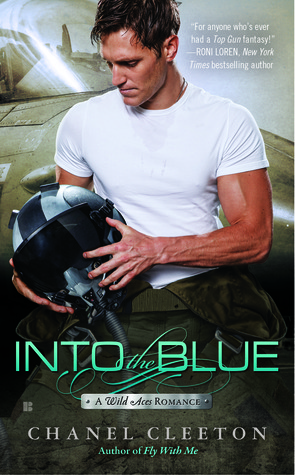 Genre: Contemporary Romance
From the author of Fly with Me and the Capital Confessions Novels comes the newest in the sexy Wild Aces Romance series.

Eric Jansen—call sign Thor—loves nothing more than pushing his F-16 to the limit. Returning home to South Carolina after a tragic loss, he hopes to fix the mistake he made long ago, when he chose the Air Force over his fiancée.

Becca Madison isn't quick to welcome Thor back. She can't forget how he shattered her heart. But Thor won't give up once he's set his sights on what he wants—and he wants Becca.

Thor shows Becca that he's no longer the impulsive boy he used to be, and Becca finds herself irresistibly drawn to him. But will Thor be able to walk away from his dream of flying the F-16 for their love or does his heart belong to the sky?
I've been a fan of
Chanel Cleeton's
for a while now, and I always look forward to anything new
written by
her. Due to a planned family holiday, I wasn't able to read the first book in the
Wild Aces
series... As yet. But as each book features different couples, it is easy to pick up any book in this series without feeling lost.
Into the Blue
features Becca and Nick (flight name is Thor) as they get a second chance at love. 10 years ago, Nick left Becca to become a pilot, while Becca finished college and pursued her own career. After a chance meeting, old feelings and heartache resurface
and they fight the connection that they obviously still have.
I could see how much Becca struggled after seeing Nick again, she was heartbroken after he left, and didn't want to let him back in. But it was hard to keep her first love away after everything they experienced together.
For me to see what
Nick did when he left, I wanted her to hold her own and make him fight for her.
Nick knew he didn't leave on the best of terms, but after seeing Becca again and going through an issue of his own, he decided it was time to fight for his own happiness.
I liked seeing him try hard for Becca and to show that he was a changed and better man than when he left. It was a shame he was gone so long, considering that his Grandmother still lived in town, but I liked how he checked in on her and did odd jobs when he could now that he was back.
I liked that both
Beccan and Nick were
very passionate about their careers, but it bugged me a little that Becca expected Nick to give up everything for her if they were going to get back together. I thought it was a bit selfish of her, especially without experiencing his world.
Along with the rekindling romance, this story handled the delicate issue of PTSD, as the Wild Aces went through a tragedy (which I
believe
occurred in the fist book). It was interesting to see what Nick would or wouldn't do to get past this issue. Being with Becca helped him unwind, as he told her details and was able to be his old self, but it was always on his mind.
In the end, I really enjoyed their story unfold. They realised that they weren't ready ten years earlier,
that t
hey grew a lot being apart, and realised that they were better people
the
second time around. I enjoyed watching them date again and the sweet things Nick would do to win Beccas heart back.
It was a beautiful story and I know I will have to read both of the other books in the series!
Complimentary copy provided by the Publisher, via NetGalley in exchange for an honest review.
This was a heartbreaking moment and I could see that Becca was trying so hard to guard her heart!!

"Do you honestly think that after everything we've been through, I'm going to trust that you want a future together? That you'll actually choose me?
"I'm not going down this road with you again. I've been there and all it did was give me years of heartbreak. I don't trust you anymore. There is no us. Not anymore."

Kindle Arc Loc 657



Hosted by MizB of

A Daily Rhythm
Originally a Florida girl, CHANEL CLEETON moved to London where she
received a bachelor's degree from Richmond, The American International University in London and a master's degree from the London School of Economics and Political Science. Chanel fell in love with London and planned to stay there forever, until fate intervened on a Caribbean cruise and a fighter pilot with smooth dance moves swept her off her feet.

Now, a happily ever after later, Chanel is living her next adventure. Law school made Chanel realize she'd rather spend her days writing sexy stories than in a courtroom, and she hasn't looked back since. An avid reader and hopeless romantic, she's happiest curled up with a book. She has a weakness for handbags, her three pups, and her husband. 



Chanel writes contemporary romances. She is published by Harlequin HQN, Penguin/InterMix, and Penguin/Berkley and is the author of the International School, Capital Confessions, and Wild Aces series.
International School series