I've been a fan of
Ilsa Madden-Mills since I began her
Briarcrest Academy series, then I read Dirty English and loved it too (now on sale for just 99 cents, get it HERE). And who wouldn't love British twins, with hot-as-sin bodies? So what are you waiting for? Snap these reads up today!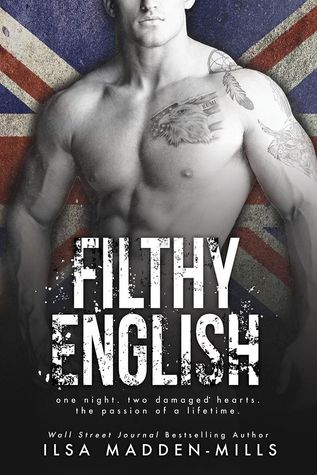 Author: Ilsa Madden-Mills
Genre:
NA Contemporary Romance
Published: July 11th 2016
A smokin' hot British player…
A jilted girl…
One night of mistaken identity…

Two weeks before her wedding, Remi Montague's fiancé drops her faster than a drunken sorority girl in stilettos. Armed with her best friend and a bottle of tequila, she hops a plane to London to drown her sorrows before fall semester begins at Whitman University.

She didn't plan on attending a masquerade party.

She sure didn't plan on waking up next to the British bad boy who broke her heart three years ago—the devastatingly handsome and naked Dax Blay. Furthermore, she has no clue how they acquired matching tattoos.

Once back at Whitman together, they endeavor to pretend they never had their night of unbridled passion in London.

But that's damn hard to do when you live in the same house…

One night. Two damaged hearts. The passion of a lifetime.

*A modern love story inspired by Romeo and Juliet*
Last year I read the first book in the English series and fell in love with the British twins Declan and Dax. Filthy English features Dax Blay and how he gets a second chance encounter with Remi Montague. These two had history and it was deep and intense, and left them tied together forever. When they cross paths in England, I could see that their attraction was still there, and the more time they spend together the stronger their connection became.
Both characters were quite vulnerable, Dax having suffered the loss of his mother as a child, and never really got past it. Remi had a secret in her past that she kept close and when revealed my heart hurt for her. She had worked through it with the help of her friend Lulu, but it was still just beneath her skin.
I loved seeing Dax and Remi together though, they had a lot of fun in England, and did fun things they would not usually do. Having Lulu and Spider around was an entertaining element to their trip as well! When they returned to the US though, their relationship was strained and other factors keep them apart.
It was good to get both Dax and Remi's perspectives and how they worked through their feelings and the relationship they had with one another. Dax may've seemed confident, but he was guarded when it came to Remi. I liked how she took the lead when he needed it most.
I enjoyed Filthy English, but Declan is still my favourite twin! They made small appearances throughout the story and supported Dax when he needed it most! I enjoy Ilsa Madden-Mills writing style and she has me curious about Spider and Lulu! I want more of these two!
Complimentary copy provided by the Author in exchange for an honest review.
*** Swoon Thursday was first bought to us by YA Bound. Since they are no longer with us, and with permission from Trisha Wolfe, I have decided that those of us that love to swoon need a central meet up point. So here it is ladies! I have a link up for everyone at the bottom of the post you can add your swoons to, and I'll set it up every week! So tell all other swooners out there to come on over, link up so we can visit each other! *** Two little swoons this week, a sweet kiss and a funny moment!

Lips brushed the top of my hair. "Remi . . . look at me," he said, his voice raspy.
If you look up, you're going to kiss him . . .
I tilted my head up and his mouth fused with mine in an instant.
Insistent.
Wild.
Hot.

Kindle Arc Loc 904

"It would help if you didn't have the most perfect ass in the whole world, but I guess you can't change that."
I arched a brow. "Too hot for you to handle?"
She rolled her eyes. "Shut up, Romeo."

Kindle Arc Loc 1087


Originally inspired by

YA Bound
New York Times and USA Today best-selling author Ilsa Madden-Mills
writes about strong heroines and sexy alpha males that sometimes you just want to slap.

She's addicted to all things fantasy, including unicorns and sword-wielding heroes in books. Other fascinations include frothy coffee beverages, dark chocolate, Instagram, Ian Somerhalder (seriously hot), astronomy (she's a Gemini), Sephora make-up, and tattoos.

She has a degree in English and a Master's in Education.

When she's not pecking away on her computer, she shops for cool magnets, paints old furniture, and eats her weight in sushi.
a Rafflecopter giveaway
Other reviews featuring
Ilsa Madden-Mills