The second book in the Hitched saga is released today! This serial is my first introduction to Kendall Ryan's work and I'm loving what I've read so far! I love seeing Olivia and Noah together... and I'm dying for the final book!
Title: Hitched: Volume Two
Author: Kendall Ryan
Series: Imperfect Love #2
Genre: Contemporary Romance
Published: July 19th 2016
Arranged marriage? Check.
Cocky new husband? Check.

It's a marriage of convenience—one I'm determined to keep strictly professional. I can't be stupid enough to fall for this sexy playboy's charm or advances. I have to be strong, even if he is my husband.

Except he has a huge cock with an even bigger ego, and his main goal in life seems to be getting me to stroke both. The arrogant bastard is like sweet, sugary candy for my libido. I know he's bad for me.

But I want to devour every wicked inch of him.

With his sexual prowess and experience, I know he'll be explosive in the bedroom. And since we're stuck together for the foreseeable future—keeping up this marriage charade long enough to turn the company profitable again—I deserve something to look forward to at the end of a long workday, right?

What could one little taste hurt?

This is volume 2 in the Imperfect Love series.
It has been a long two weeks, but I finally got to read the next instalment in the Hitched saga and it was great to be back with Noah and Olivia. V2 picked up a few days after the first story ended, where Noah was still a little shell shocked and unsure of what happened, and Olivia trying to process her latest hurdle. It's not long until they are together again and working to over come their newest threat.
Noah and Olivia are one of those couples that you can see belong together, but they have no clue. Noah goes out of his way to do sweet things to woo Olivia, and she's finally seeing him as something more than an arrangement. There's serious chemistry between them and there's no stopping them once they get a taste of one another.
But there are secrets still hovering between them. They are each to blame for it in my opinion... read a damn contract properly before signing! But lying by omission doesn't help the situation either. I just wanted to shake both characters and tell them to get it together. Olivia over analysing everything annoyed me too, but I could see that she was trying to protect her heart from shattering in the future.
Hitched V2 was a great follow up to Noah and Olivia's story. I enjoyed seeing them become comfortable with one another and gel as a couple. I like the impact the secondary characters have in their lives, offering advice when they need it. I am so glad I have finally read Kendall Ryan's work, because I love her style, the world building and the fabulous characters that she's created. Bring on V3!
Complimentary copy provided by the Author in exchange for an honest review.
Hehe... Noah loves to talk dirty, and Olivia is not the only one who loves it!!

"A man can dream. But I'm offended that you called it just a little O." His voice drops, all low and silky. "The way you were screaming and clawing my back . . . I could tell that wasn't little. They probably felt the aftershocks in China."

Kindle Arc Loc 845

Is marital sex hotter than hookup sex? The answer to that question seems to be a big fucking YES. Because just the thought of banging my wife has me harder than ever before.

Kindle Arc Loc 960

Hosted by MizB of

A Daily Rhythm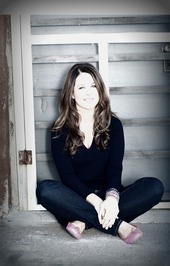 A New York Times, Wall Street Journal, and USA Today bestselling author
of more than a dozen titles, Kendall Ryan has sold over 1.5 million books and her books have been translated into several languages in countries around the world. She's a traditionally published author with Simon & Schuster and Harper Collins UK, as well as an independently published author. Since she first began self-publishing in 2012, she's appeared at #1 on Barnes & Noble and iBooks charts around the world. Her books have also appeared on the New York Times and USA Today bestseller lists more than three dozen times. Ryan has been featured in such publications as USA Today, Newsweek, and InTouch Magazine.

Visit her at: www.kendallryanbooks.com for the latest book news, and fun extras