Blake Austin's debut novel was released this week and I was surprised as to how well it was written and how attached I became to Luke! You need to try this one for yourself!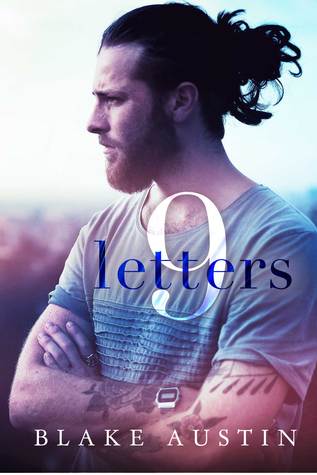 Genre: Contemporary Romance
Published: February 24th 2016
Luke Cawley is a broken man. After his wife's tragic death, he lost everything that mattered in the world. Now, his life is filled with hard days, harder nights, and a steady stream of alcohol and the wrong kind of women. Nothing helps.

Until the letters arrive on Luke's doorstep.

Nine envelopes. Nine messages. Nine chances to find his way back.

Rae Goode is looking for the real thing. After fighting her way out of a string of bad relationships, she's ready for something different--something true.
She meets Luke while piecing her life together, and right away she can tell that he's different. Drawn together by fate and the desire to heal, Rae and Luke discover new ways to mend their broken hearts--one letter at a time.

Discover Blake Austin's debut novel of loss, redemption, and ever-enduring love.
Just reading the description to
Nine Letters
had me hooked! I expected the book to be a journey of self discovery for Luke, but it also tugged on my emotions. Luke's story was heartbreaking already, and then I saw him slowly pull himself together to try and find a new way to be happy once again.
Luke had been stumbling through his life since his wife died. He had withdrawn from his family and close friends, and seemed to be running on auto pilot. Twelve months after her death, a package arrives with nine letters, because his wife somehow foresaw that he would be struggling and would need a push in the right direction.
I loved the idea behind this book, getting letters from someone that you loved so fiercely! Luke struggled at first, but slowly pulled himself together, found peace and let his anger at the world go. He did things for himself, as well as others, and managed to find happiness again. It wasn't easy for him, and there were a few hiccups in the road, but he became a better man by the end of the book.
His relationship with Rae grew gradually from attraction, to lust, to something deeper, and it was sweet to see Luke take this step in regards to moving on. I loved how I was able to get glimpses into Luke's past too, to understand what he lost in regards to Emily!
Nine Letters
is Blake Austin's debut novel, and I think that he did a remarkable job at piecing Luke's story together. It was heart wrenching at times, having to deal with losing someone you loved so unconditionally, but it also opened up my eyes as to what can happen after death; you can move on, you can find happiness and perhaps love again. It was a beautiful read and I would definitely read something more from him in the future! And your band may have given you sh!t Blake, but you pulled this story off perfectly! ;)
Complimentary copy provided by the Author in exchange for an honest review.
This moment made me giggle! I just had to share!

"How much time do we have?" Rae asked. She stepped up close to me, put her arm around my waist. I pulled her in tight against me, and her hand ran up along my back, her nails digging into my skin.
"Our reservation isn't for another hour and a half," I said.
"Whatever will we do until then?"
I grinned. Rae was inexhaustible.

Kindle Arc Loc 3213

Blake Austin is a guitar playing father of one, who lives in Los Angeles. He's written music for as long as he can remember and was inspired to add book writing to his repertoire. 9 Letters is his debut novel.

For updates: Follow Blake Austin on Facebook.