I have decided it's time to catch up on the world of Kate Daniels!! I know, it's been three years, and I've loved being back!!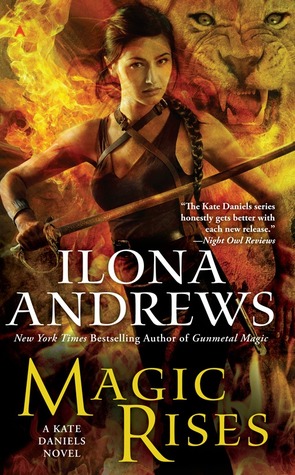 Published: July 30th 2013 by Ace Berkley Penguin (first published January 1st 2013
Atlanta is a city plagued by magical problems. Kate Daniels will fight to solve them—no matter the cost.

Mercenary Kate Daniels and her mate, Curran, the Beast Lord, are struggling to solve a heartbreaking crisis. Unable to control their beasts, many of the Pack's shapeshifting children fail to survive to adulthood. While there is a medicine that can help, the secret to its making is closely guarded by the European packs, and there's little available in Atlanta.

Kate can't bear to watch innocents suffer, but the solution she and Curran have found threatens to be even more painful. The European shapeshifters who once outmaneuvered the Beast Lord have asked him to arbitrate a dispute—and they'll pay him in medicine. With the young people's survival and the Pack's future at stake, Kate and Curran know they must accept the offer—but they have little doubt that they're heading straight into a trap…
I read the first five books in the Kate Daniels series before starting my blog. I loved this series so much but other than reading Gunmetal Magic which is Andrea's book, I haven't managed to get back into the books… until now! So even though it's been over three years since I finished Magic Slays, it was easy to pick up Magic Rises and to be swept away in the world once again. Each book has its own story, and the series story arc is still easy to follow, and I was quickly immersed back into the world once again.
Before I began reading Magic Rises, there was a note in the front suggesting to the reader to read An Ill-Advised Rescue, a short story in the back of the book, where Kate goes out to save Saiman who has managed to get himself captured. I am glad that I did because even though the events didn't impact a lot on this book, the favour that Saiman then owed Kate was a key piece for the trip that they all had to go on. It was a quick, action packed read that I devoured quickly before jumping into the main read!
I then set off with Kate and Curran, and the crew that decided to help them on their reluctant journey. The whole situation screams trap! but they head off anyway. They want the medicine that will help their young shifters survive the change and are willing to do anything to get it. It was an interesting trip with many obstacles to get past and new enemies making appearances.
Magic Rises
was an exciting and gripping read. Kate and Curran's love and trust in one another was tested and Kate found it hard being a human surrounded by so many shifters, especially the ones outside of their pack. She knows that her people will look out for her, but her life is constantly under threat, her emotions are all over the place and she finds herself in a few difficult situations. She's as strong willed as ever, though, and manages to get herself out of most of them. She formed a few new friendships that may help her more in the future as well.
The trip was as action packed as you would expect from the world of Kate Daniels, so brace yourself for the battle that comes in this book. I was shocked, there were tears, and it was difficult for everyone, including me! But we all pushed through and are now looking at the bigger picture, even though sacrifices were made. I loved every moment of reading Magic Rises; the epilogue made me smile and I can't wait to see what comes next for Kate and Curran!
I love the action in this book, but also how in-sync Kate and Curran are!

"If we go to that dinner, we'll have a fight. Also, he hopes you will be a challenge."
Curran smiled. It wasn't a nice smile.
We looked at each other. We both knew Hugh would make his move tonight, and after that, everything would be over. We could try to fight our way to the ship now, except we had promised to guard Desandra. Abandoning her wasn't an option. We had given our word. "
Are you hungry, baby?" Curran asked.
"Starving."
"I think we should go to dinner."
"Great idea."
"What are you going to wear?"
"My badass face."
"Good choice," he said.
"Let me just get my knives and powdered silver."

Paperback Page 294



Hosted by Anna @

Herding Cats & Burning Soup



"Ilona Andrews" is the pseudonym for a husband-and-wife writing team.
Ilona is a native-born Russian and Gordon is a former communications sergeant in the U.S. Army. Contrary to popular belief, Gordon was never an intelligence officer with a license to kill, and Ilona was never the mysterious Russian spy who seduced him. They met in college, in English Composition 101, where Ilona got a better grade. (Gordon is still sore about that.)

Gordon and Ilona currently reside in Texas with their two children and many dogs and cats.

They have co-authored two NYT and USAT bestselling series, the urban fantasy of Kate Daniels and romantic urban fantasy of The Edge and working on the next volumes for both.
Other reviews featuring Ilona Andrews
Kate Daniels World
Gunmetal Magic
#1