I read the first book in the Thatch series back in October 2014, and when I saw that the second book was coming out, I had to get it! It was a sad but heartbreakingly beautiful!!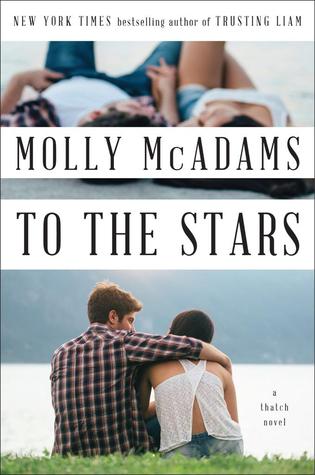 Genre: NA Contemporary Romance Suspense
Published: February 9th 2016
In the second book in New York Times and USA Today bestselling author Molly McAdams' Thatch series, Knox Alexander must convince his long-time love Harlow Evans that they're meant to be together.

He promised to wait for her.
She told him he was wasting his time.
Not waiting for him ended up being the biggest mistake of her life.

When they were younger, Knox Alexander swore to Harlow Evans that he would wait for her to turn eighteen so they could be together. But that was three and a half years away, and Harlow couldn't ask him to give up all the fun and thrills of going away to college for her. As the years passed, Knox remained a constant in her life—whether she liked it or not—but when her eighteenth birthday came around, Harlow's heart belonged to someone else.

Every day for the last four years, Harlow has been haunted by that fateful choice. And though he may appear unaffected by what happened in their past, Knox has always tried to fill the void Harlow left. But when he comes stumbling back into her life and refuses to leave, will Harlow finally let him into her heart…?
This book was an emotional read, I tell you! Harlow's story is just heartbreaking… to see how she was treated and what she endured was difficult to witness, but knowing that these types of situations are real, saddens me. But for Harlow, an old love comes back into her life and she was finally able to contemplate changing her life around, before it was too late.
Harlow first met Knox when she was only fifteen, and I could see the connection she had with him from the beginning. She cared about him so much that she wouldn't allow him to get too close. They still formed a strong friendship, just never crossed lines. In the future, I could see how much Harlow loved her family and did everything she could to keep them out of danger, even if it meant sacrificing herself. It was upsetting to see, the abuse she took, and how she handled it all without anyone noticing, or to have anyone to talk to.
Knox… I loved him! He was kind, sweet and always put Harlow first. I could tell he fell for her quickly and was willing to wait for her. Even years later when they met up again, I could see how much he still loved her and wanted to protect Harlow. He knew her better than anyone, and could see past fake smiles to the woman struggling beneath.
This story is told from both Harlow and Knox's perspective, mostly from the present, but we get glimpses into the past so that you can fully understand Knox and Harlow's relationship. I loved the way
Molly McAdams pieced this story together; there were difficult situations, but also a deep connection and love between Knox and Harlow that made this story beautiful. The story wrapped up quickly and when I closed the book I was proud of the person Harlow had become. If you haven't read anything by Molly yet… pick this one up! It is fabulous as a standalone and you will not regret it!
Complimentary copy provided by the Publisher, via Edelweiss in exchange for an honest review.
This moment was hard for both Harlow and Knox... Harlow was really struggling and she put her emotions on the line.

"... Right now what I want is you, and I can't have you!"
One hand wrapped around my waist; the other moved to fist in my long, wet hair. Before I could think of what was happening, his lips fell onto mine, and a shocked whimper moved up my throat. I clung to his arms as our lips moved in sync for a few short, blissful seconds. When he pulled back, I pressed my forehead to his chest so I wouldn't have to look at his dark eyes. I would take back everything I'd just said if I looked at them now.
"One day, Harlow Evans, you will be mine. I will wait for you."

Kindle Arc Loc 456



Hosted by MizB of

A Daily Rhythm
Molly grew up in California but now lives in the oh-so-amazing state of Texas with her husband, daughter, and fur babies. When she's not diving into the world of her characters, some of her hobbies include hiking, snowboarding, traveling, and long walks on the beach … which roug
hly translates to being a homebody with her hubby and dishing out movie quotes. She has a weakness for crude-humored movies and fried pickles, and loves curling up in a fluffy comforter during a thunderstorm ... or under one in a bathtub if there are tornados. That way she can pretend they aren't really happening.

Come be my friend!
Other reviews featuring
Molly McAdams
Thatch
series
Letting Go #1