I managed to snag a copy of
The Stars Never Rise from the library... I am so glad I did because I loved it! I've been dying for another great YA read since the Soul Screamers series ended!
Title: The Stars Never Rise
Series: The Stars Never Rise #1
Sixteen-year-old Nina Kane should be worrying about her immortal soul, but she's too busy trying to actually survive. Her town's population has been decimated by soul-consuming demons, and souls are in short supply. Watching over her younger sister, Mellie, and scraping together food and money are all that matters. The two of them are a family. They gave up on their deadbeat mom a long time ago.

When Nina discovers that Mellie is keeping a secret that threatens their very existence, she'll do anything to protect her. Because in New Temperance, sins are prosecuted as crimes by the brutal Church and its army of black-robed exorcists. And Mellie's sin has put her in serious trouble.

To keep them both alive, Nina will need to trust Finn, a fugitive with deep green eyes who has already saved her life once and who might just be an exorcist. But what kind of exorcist wears a hoodie?

Wanted by the Church and hunted by dark forces, Nina knows she can't survive on her own. She needs Finn and his group of rogue friends just as much as they need her.
I have been a fan of Rachel Vincent's for a long time, but somehow I managed to put off reading The Stars Never Rise, but now I wished I hadn't! This book drew me in from the beginning, as I got to know Nina and learned about her world. I was hoping for something exciting and a little complex, and that's exactly what Rachel has delivered.
Nina lives in a world that is run by the Church. There was a war that happened some time ago and since then the communities are gated to keep out the degenerates – humans that are dying due to their souls being consumed by demons. Nina is doing the best she can to support her sister, as their mother is nasty and often absent.
I liked Nina; she looks out for her sister before herself, finding ways to keep her safe and to build their own lives away from their mother. She soon learns that the world she lives in is not as black and white as she thinks and she crosses paths with a green eyed boy who changes her future.
I really liked Finn too! He showed how courageous he was when he stepped in to help Nina, not once but twice. I could see that he felt something for Nina, which was really sweet. He had a secret, but I didn't quite guess what it was, but it was a bit of a shock. It turned out to be quite helpful, but I understood why Nina found it hard to absorb and process.
There were a few secondary characters introduced that have made the story interesting. Nina's sister Melanie is young, but far from naive. Finn's friends Maddock, Devi, Reese and Grayson have their reasons for banding together and are a close knitted crew. They support each other with every decision they make.
I think The Stars Never Rise was an exciting and thrilling beginning to the series! There was plenty of action, plotting and a few swoon moments as Nina and Finn's feelings grew. I enjoyed how Rachel built this world and how each twist had me gasping! The world is a little complex, but Rachel did an amazing job at outlining it so I could see where the story was headed. Nina's adventure is far from over and I look forward to see where things are headed now.
*Snickers* I loved this moment between Finn and Nina... she was beginning to freak out!!

Finn was an exorcist. He'd been through what I was going through, right? So why couldn't he understand that my body was giving me a command I had no choice but to follow? I couldn't stand still for one more minute, with my muscles burning and my—
His mouth met mine, and I almost choked on surprise. Then his hand slid behind my neck and his head tilted, and I had a second to decide whether to bite his tongue off or kiss him back.
I'm not sure why I kissed him back.

Paperback Page 156



Hosted by MizB of

A Daily Rhythm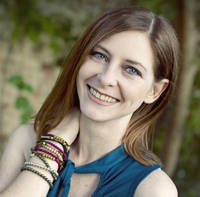 Rachel Vincent is a former English teacher and an eager champion of the
Oxford comma. She shares her home in Oklahoma with two cats, two teenagers, and her husband, who's been her # 1 fan from the start. Rachel is older than she looks and younger than she feels, and she remains convinced that writing about the things that scare her is the cheapest form of therapy—but social media is a close second.
Other reviews featuring
Rachel Vincent